---
(LS6+M12+FE4)-38lbs=C5.5?
Oh hell! Who cares about the math–this damn car is just plain fast!

text by Hib Halverson
images by the author, Chevrolet Communications and GM Powertrain Division.
Like to drive Corvettes godawful fast on a regular basis?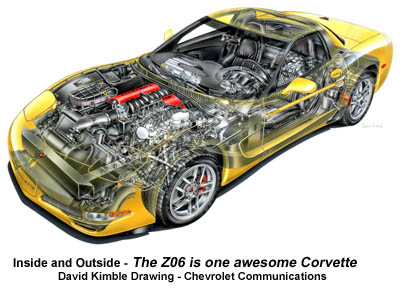 Buy this car!
The 2001 Corvette Z06 is the hottest performance news since the coming of the ZR1 more than a decade ago. Back in early May, Chevrolet gave media a preview of this truly amazing car at Mid-Ohio Sports Car Course. After testing it on the race track, there's little doubt in my mind that the Z06 (say "zee-oh-six") is the motorsports-oriented Corvette we've been waiting four years to get. I mean–this is one, ass-kicking, flaming hot, killer machine.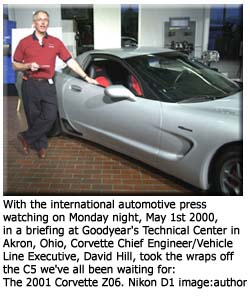 To make the "Zed-ought-six", General Motors, North American Car Division took the existing Hardtop model, gave the engine 40 more horsepower, added a special six-speed transmission, an upgraded suspension, a new wheel/tire package, improvements in the rear brakes then made Active Handling standard and took out some weight. The nameplate honors the historic RPO that was 1963's racing package.
With Z06, Chevrolet Corvette once again raises the bar for production sports car performance. During testing at two different, 2-mile road race facilities, Grattan in Michigan and Putnam Park in Indiana, (both regularly used by Team Corvette for testing) John Heinricy, boocoo-times-winning and World-Record-holding Corvette racer, and Mike Neal, GM's top Corvette ride-and-handling engineer, were three-and-a-half seconds a lap quicker in Z06es than in 2000 Hardtops.
When I talked to Mike at Mid-Ohio he offered this, "In the real world, a Z06 might even be quicker. John and I are very experienced on those tracks in Z51s and Z06es. Even above average Z51 drivers, unless they have a heck of a lot of seat time, might not be as fast. Z51's, because of some differences in their rear suspension, require a more judicious application of the throttle exiting turns than does the Z06. Those unaware of that may not be as quick off turns. I think many drivers will be more like, four seconds a lap faster in the Z06."
Anyway you cut it, three-and-a-half or four seconds is an astonishing gain for a showroom stocker on a 2-mile track.
Bottom line?
The bar's been raised...a bunch.