Ruthless Pursuit of Power:
The Sequel
'02 LS6: More Power. More Torque.
by Hib Halverson
For 2002, "more performance" is part of the mission statement of the Corvette folks at GM's Powertrain Division. That was made obvious to the staff of The Idaho Corvette Page in a media briefing at Irwindale Speedway in California on May 10, 2001 when "Doctor" John Juriga, Assistant Chief Engineer for Gen III Passenger Car Engines announced: LS6 for '02 will generate 405 horsepower and 400 pound/feet torque,
20 more hp. and 15 more lb/ft. over the '01.
Can you feel the difference?
Heck yeah–but only if you're driving a Z06 as it's supposed to be driven: real hard. The LS6's extra power is all up top and it makes the '02 Z06 the quickest production Corvette ever. Some intel we've developed about GM's in-house, '02 Z06 testing suggests an astonishing, 3.85-sec. 0-60 and quarter mile performance at 12.45/118.0 mph. That's using timing with no roll-out (rather than drag strip clocks), on a typical road surface and at the hands of a driver who understands how to launch in a manner that won't run afoul of the "antipowerhop" algorithms programmed into the engine controls software.
The revised LS6, with 405hp@6000 rpm and 400 lbs/ft.@4800 rpm, makes the '02 Z06 a couple tenths quicker than last year's model and a full, half-second quicker than the last of the ZR1s, which also had 405hp but carried almost 400 more pounds. At a ripe old age of 11, the ZR1's only remaining title is "Fastest Production Corvette" at 180 miles per hour.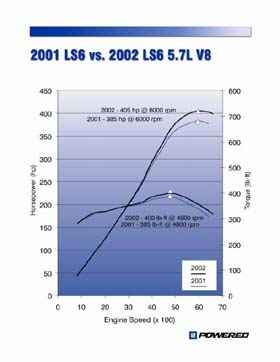 '02 LS6 vs.'01. Below 3750 rpm there is no practical difference between the two, but get on the loud pedal and let the motor rev through 4000 rpm and, trust us–you'll feel the difference. Chart: GM Powertrain Division
[ Click Image for Larger View]