Page-5 2001 Corvette Z06 by Hib Halverson
Zed-ought-six does Weight Watchers
"Heinrocket" John Heinricy spent 15 years at Corvette development before he was promoted to Chief Engineer for the F-car. While he spends his days working on Camaros, he still races Corvettes and is involved in C5, track testing. He was at the Mid-Ohio media event to do some race track driving which will eventually be seen in the Z06 Owner's Video.
My second day there, I was chatting with John about the Z06 and he said, "You know three things are required for good performance on the track: braking, handling and straight-line speed. Reducing the weight of the car is the most efficient way to simultaneously accomplish all three of those goals. I remember talking with Tadge Juechter (Corvette Vehicle Integration Manager) and others and encouraging them to take all the time they could to consider weight and where they could take it out."
First, some comparison numbers: a Z06 is 104 lbs. lighter than an '01 Coupe and 38 lbs lighter than a '00 Hardtop. Weighed against the best performing C4, the '95 ZR1, Z06 is lighter by 420 lbs–no wonder it's so quick!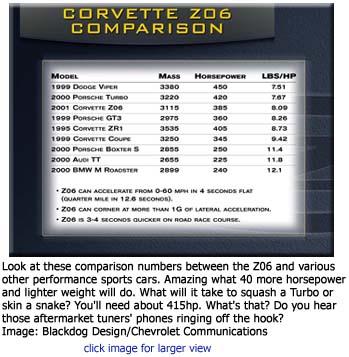 The biggest factor in the Z06 coming in at a trim, 3115 lbs was the use of the Goodyear F1 SCs which reduced weight by 23.4 lbs. The next greatest reduction, 17.6 lbs, comes from one of the more unique parts on the car, a titanium muffler assembly.
Since 1993, Arvin, a market leader in OE exhaust products, has been working with Titanium Metals Corporation (TIMET), the world's largest supplier of titanium raw material, on exhaust systems. GM came to Arvin with a challenge: build a muffler assembly that's lighter than a stainless steel system, packages in the C5 and meets Team Corvette's demanding performance goals. The results you'll see under every Z06. It's the first use, anywhere in the world, of titanium in a mass-produced, automotive exhaust system.
While Titanium is usually associated with exotic uses such as jet engine tail pipes, connecting rods in Formula 1 engines and Space Shuttle fuel systems, it's common in nature being the fourth most abundant structural element. Titanium Oxide or "Rutile" ore occurs in ordinary, black beach sand.
From a performance standpoint, the stock C5 exhaust was already pretty good. Most C5ers buy aftermarket systems to change the sound and the look of the tailpipes. The Z06's Arvin/TIMET exhaust not only weighs 41% less than the stainless system on other Corvettes, but to accommodate the LS6s increased exhaust flow, larger pipe sizes are used, the mufflers were changed to enhance flow and sound and the tips are different.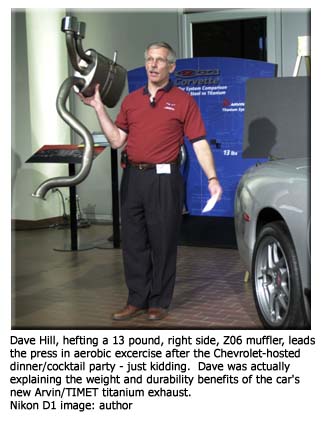 Titanium has a natural oxide layer that's immune to corrosion inside and out, even at welds. Since it needs no "corrosion allowance", thinner gauge metal is used which also contributes to the weight savings. A unique appearance feature is the oxide film's shimmering blues, purples and golds as the temperature of the muffler assembly rises.
There are other weight savings such as: thinner front and rear glass (5.7lbs), a new, lighter pressure modulator for Active Handling (3.5lbs) and a lighter battery (5.7 lbs).
Mathematicians might note the individual weight reductions don't add up to the overall weight number listed earlier. That's because there are pieces on '01 Corvettes that weigh more than last year. Heavier cast iron exhaust manifolds replace the previous fabricated stainless steel units, the stronger driveline parts weigh more and the Z06 wheels are a bit heavier.