Building the Tom Henry RS

Side Bar:
Pt 2: Heads and Valvetrain
Kaytech
We'll bet a fair number of Camaro enthusiasts have never heard of Katech, Inc. No surprise, considering the under-the-radar nature of the Clinton Township, Michigan engineering firm which has been the sole engine supplier for Corvette Racing since the program began a decade ago. Not only has Katech developed and maintained the C5-R and the C6.R race engines for the last ten years; it assisted GM Powertrain on development and validation of the '06/'07 Z06's 505hp LS7.

The "Ka" in Katech is Fritz Kayl, who, along with Warren Frieze, founded the company in 1977 with Chevrolet as their first customer. Their mission: apply their knowledge of internal combustion engine engineering and physics along with scientific method and business management principles to race engine building.

Kevin Pranger, Katech's Program Manager for the Corvette Racing's engine program works on an LS7.R race engine that powered a C6.R at LeMans this year.
Image: CHpg Staff.
There's emotion and common sense in Katech's approach, too. "I became a Chevy guy in my teens," Kayl told The Camaro Homepage, "and I never wavered–a lot of loyalty there. I'm very proud of that.
| | |
| --- | --- |
| Katech's reception area is partailly filled with a display of the scores of championship and race win trophies and awards, like this one from the Daytona 24-hr race in 2004. Image: CHpg Staff | "In the race engine business, it's not so much getting things right; it's how many things you do wrong which makes you a winner or a loser. At Katech, we try not to 'out-trick' ourselves. We focus attention on theory and practice rather than trying to find the latest hot trick. We do everything in our power to win races." |
Has Kayl's approach worked?
Look at the record. Katech-built, Chevrolet V8 and V6es have won hundreds of races, including the 24 Hours of Le Mans (5-times), 12 hrs. of Sebring (4-times) and Daytona 24 hrs. (twice). Those wins earned scores of championships: American Le Mans Series (6-times with C5-Rs/C6.Rs); ASA (4-times); NASCAR Busch Grand National (3-times); IMSA GTS (twice), IRL and that's only part of them. At www.katechengines.com, a list of racing successes uses up an entire page and that list may get longer if Corvette wins the ALMS again this year and the Cadillac CTS-V wins the SCCA World Challenge. Both those cars are leading their series' manufacturer standings at this writing.
Of interest to Camaro enthusiasts is that Katech engines won the SCCA Trans-Am Championship five times. Four of those series wins were by Camaros with Katech power and all four were "dual-championships" where the race team won both the Driver's Championship and the Manufacturer's Championship. Yeah, Katech motors make tons of power, but what sets consistent win records like that is race winning power along with bullet-proof reliability and durability.
Recently, we toured Katech's four-building complex and what we saw drove home the resource thing Fritz Kayl spoke about. One building houses six engine test cells, each devoted to a specific type of research. There is one cell for valve train testing and analysis. In it, a 30-hp electric motor spins rotating parts of test engines while real-time observation and measurement of valve action is done using a laser. Another cell is devoted friction and other parasitic loss testing. It has a 300-hp electric motor which can drive an entire engine while test equipment measures losses. A third is used for fuel system development and three other cells contain engine dynamometers.

Katech's Fritz Kayl, during our interview with him in the Fall of 2006.
Image: CHpg Staff.
Another building houses CNC machining centers where cylinder heads and blocks are processed. The "meat and potatoes" of Katech is the engine assembly department. It's a large, well-lit area divided into 14 cubicles where each assembler puts together an engine in a careful, precise manner. At Katech, the same people, who one week, build an LS7.R race engine for the C6.R, the next week, do an engine for a customer's 4th Gen. Camaro with similar attention to detail.
While we'd seen "industrial metrology" (the application of measurement science to manufacturing) rooms in big manufacturing plants, we'd never seen one at engine shops we'd visited before, but Katech has one. Another room is filled with computers at which sit engineers working with CAD programs.
"One strength of our racing programs and core race engine business," Caleb Newman, Katech's Director of Aftermarket Operations told us, "has given us are resources we use for development of our street performance products. It's not cost effective for a company which is only marketing aftermarket performance products to do the type of race engine development we do at Katech. The only reason we're able to do it and be competitive in the performance aftermarket is we already have those resources built-up over the last 30 years.
"The greatest asset those resources have given us is reliability. We may not make much more power other performance engine vendors, but we can match that power with a far more reliable package...one we're much more confident putting on the street.
"What we do for the aftermarket is the highest level of processes, diligence, testing, validation and quality that money can buy. We feel no one else can offer this because they lack our years and years of racing experience. Our guys who are building the LeMans winning engines are also building our street performance engines. You're not going to find nearly 400 years of professional race engine building experience anywhere else. No other company is doing that using the same tools, the same processes, the same machinery which we do.
"It's not the technology or the parts which makes us successful. It's the lessons we learn from the processes that we use...the processes, the people and the experience we apply to the street performance engines and you can't do that without the kind of racing experience we have."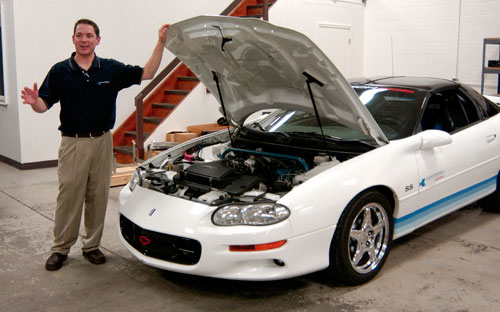 Katech's Caleb Newman explains the engine in Katech's "Street Attack LS7" development Camaro. The engine in this car makes about 640hp. The car has gone 10.86 and, while not "streetable" in the broad sense of the term, it can be driven on the street. Katech has other Street Attack engine packages which make a little less power but are very easy to drive on the street. Image:
CHpg Staff.
Katech's track-proven Chevrolet racing heritage is available to the owner of any V8 powered fourth gen Camaro wanting to personalize his or her car with aftermarket performance enhancements for the road or track such as: complete V8 engines, CNC-ported heads, camshafts, titanium connecting rods, ported throttle bodies and racing drive belt tensioners. Some of Katech's V8 performance parts, such as valve springs and retainers, also fit 3800 V6es. Once the 2010 Camaro hits the streets, you can bet the engine experts at Katech will be doing high-performance street and racing development of the car's LS3 V8.
"To work with Corvette," Fritz Kayl told us at the end of our visit, "to go to Le Mans and win five out of the last six tries with an American race car is a dream come true. I get very emotional about it. I'm proud of the accomplishments of this company."