Building the Tom Henry RS
Pt 2: Heads and Valvetrain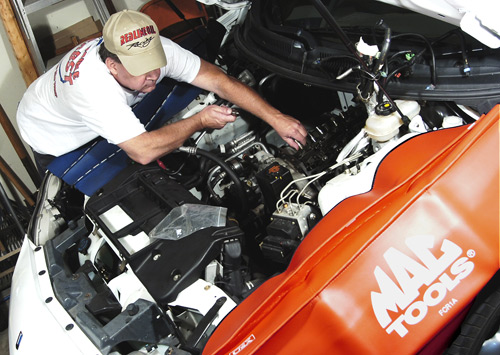 Image: CHpg Staff.
In the first part of this series, a Flowmaster exhaust, SLP 1.8:1 rockers and other, minor bolt-ons, gained us 17-hp at the wheels. Clearly, our V6 Camaro's response to mods is promising and there's potential in the 3800 Series II engine, so now, we're going to get more serious about performance enhancement.
Get that 2010 Feeling
One reason we're modifying the engine in the Tom Henry RS is, as stated previously, to use our '01 Camaro's hot rodded powertrain to attempt to simulate the performance of the 5th Gen, 2010 Camaro which will sell the most: the entry-level V6.
The obvious base engine for '10 is a further-developed version of GM's "Global V6 Engine" which, in it's "3.6L V6 VVT" version, is new this year in a number of GM passenger cars including the Pontiac G6, the Cadillac CTS and the Holden VE Commodore, and ranges from 255-275hp.
These tools remove the 3800's harmonic damper. On a five-speed car, lock the driveline with a big screwdriver. Really lean on that breaker bar and the bolt will loosen. With the bolt out, you still need a puller to get the damper off. The Kent-Moore puller works best, but others may, too, if you use 5/16x1 bolts. Longer bolts will break the trigger wheel on the back of the balancer. When replacing the balancer bolt, use the same killer breaker bar but with a torque angle meter and tighten the bolt to 111 ft/lbs plus 114°. Yep–that's tight. Image: CHpg Staff.

With the Tom Henry RS project, our goal is 260hp. The 3800 Series II, four times listed on the annual "Wards's 10 Best Engines" list in the late 1990s, has an ideal foundation for our project because its short block was designed with a 260hp supercharged application (still in production at GM, today) in mind. To meet our goal, we won't need to do anything to the block, crank, rods or pistons. Our mod'ing will be confined to the camshaft and the top end of the motor. We'll begin by porting the heads, installing bigger valves and changing the cam.

Do-it-yourselfers can handle the tasks discussed here, but some will be challenging. While most of those tough jobs can be completed with tools advanced DIYs possess, you'll need a few special items. To remove the crankshaft balancer bolt requires a 2-foot Breaker Bar and a 15/16 in. impact socket and, again, we chose Mac Tools products (PN VF24FAPA and PN VP306R).
The cam change requires an SPX Kent-Moore Power Steering Pulley Remover (J-25034-C), Crankshaft Balancer Remover (J-38197-A) and a Front Cover Seal Installer (J-35354-A). An inch-pound torque wrench such as the Mac Tools, 0-150 in/lb. unit (PN TWDFX150N) comes in handy during reassembly of some of the small fasteners used to hold intake parts. Required for head bolts, the harmonic damper bolt and other fasteners is a torque angle meter and we got that (PN TM281) from our Mac man, too.
You need service data and the best is in the Camaro Service Manual for your model year. A lower-cost alternative is the 1993-2002 Camaro Haynes Repair Manual but instructions in it are very condensed and have a few errors.
If you're working along with us, you know it's a vicious rumor that modern GM engines use all metric hardware. You'll find a mix of metric and fractional fasteners because the 3800's distant ancestor is the 231 cubic inch Buick V6, designed a generation ago, before the industry's metric conversion was complete.
Ok. Let's get to work
Off came ignition hardware, EGR pieces and miscellaneous bracketry. Using fuel line disconnect tools in a Kent-Moore "Port Fuel Injection Diagnostic Kit" (PN J-37088-A), we disconnected the fuel system, removed the rocker covers and pulled the valve gear. We detached the drive belt tensioner assembly, removed the fuel rail, lifted the upper and lower intake manifolds and removed the power steering pump pulley but left the pump mounted on the block. Finally, we got the exhaust manifolds off and removed the heads. To avoid the tedious job of removing the ignition mounting bracket from the left head, remove the head with the bracket in place, then once you have the head sitting on the bench; remove the bracket.

Tear down the engine with care. If you're not good at remembering where stuff goes, mark or tag fasteners. Same is true of wiring harness plugs and hose connections. A clean engine is a happy engine so, washing and (where necessary) painting parts is something we learned to love.
Image: CHpg Staff
Next to come off was the harmonic damper, one of the challenging tasks mentioned earlier. The damper is a modest press-fit on the crank snout but its bolt is about 3/4" in diameter with a 15/16" hex and is incredibly tight. A 3/4-drive, or very powerful 1/2-drive, air impact wrench fitted with a 15/16" impact socket will break it loose but, to make room for that, you need to remove the front stabilizer bar. For us, it was easier to put the 15/16" socket on a Mac Tools breaker bar, brace our feet on the right front tire and really pull on the breaker bar. That broke the bolt loose, but it took every bit of strength we could muster.
We slipped off the balancer then disassembled the crankshaft position sensor and its shield. Some non-GM shop manuals imply that you leave the oil pan alone when pulling the front cover. Not. Remove the front three pan bolts and loosen all but the two rear bolts by a quarter inch or so. That drops the front of the pan enough to separate its gasket from the front cover. Pull the cover forward, off its dowel pin, then up and away. Next, we removed the timing chain tensioner, chain and sprockets, lifters and took out the cam.
Pay no attention to non-GM manuals which say that, to change the cam, you remove the fans, radiator and air conditioning condenser which forces an A/C recharge. With our '01 Camaro, we got the cam out without all that work and it wasn't difficult. Other model years might be the same way.
Cylinder Head Prep
For head work on the Tom Henry RS project, we chose Mark DeGroff's Cylinder Head Service and Machine Shop in Northridge, California. First, DeGroff's Kent Grodske disassembled the heads and examined all parts for unusual wear. There was none, so Grodske gave the head castings a good session in the wheel abrader and then in the solvent tank followed by a blow-dry. Next came a magnetic particle inspection of the castings looking for cracks, especially around the exhaust valve seats.

One of our 3800 Series II heads, stripped-down and ready for the solvent tank.
Image: CHpg Staff.

At Mark DeGroff's Cylinder Head Service, Ken Grodske performs a magnetic particle inspection. The horseshoe device generates a magnetic field. Ken sprinkles metal powder on the casting. If there's a crack, the powder forms a pattern over it.
Image: CHpg Staff.
Before we cut Mark DeGroff loose with his porting tools, we hauled the bare heads back to our shop for some preliminaries. Using some carbide burrs (PN 46067) we got from the Eastwood Company along with various cartridge rolls and rotary stones from a Standard Abrasives Head Porting Kit (PN 260001), we enlarged, then deburred the pushrod passages in the heads which double as oil return passages. The point of this was to improve oil return to the pan. Then, we deburred and detailed the exterior of the castings.
To enhance oil drainback, using Standard Abrasives Motorsports Division products, we enlarged and deburred the heads' oil return passages. Then, we lightly deburred their exteriors. Any cylinder head performance upgrade would include those steps.
Image: CHpg Staff.

Finally, we spayed the castings with brake cleaner, wiped them down with Eastwood "Pre" paint prep spray (PN 10041Z) and dried them with shop air. To further enhance oil return, we painted the tops of the heads and the pushrod/oil return holes with Eastwood Gyptal (PN 46000Z). We stuck the valve covers on to mask-off what we'd just done, then shot the exteriors with Eastwood Chevrolet Orange (PN 10016Z). After an overnight drying, we took the heads back to DeGroff's.
Mark's first order of business was to flow test the O.E. intake and exhaust ports. He installed stock valves back in one of the chambers and tested the ports on his Quadrant Scientific FlowLab 520, flow bench. From .200 to .500 in. valve lift, the stock intakes flowed ok, but, below .200" and above .500", they needed work.
| | |
| --- | --- |
| Now it was time to set goals for our 3800 cylinder head project: significant flow improvement below .200" lift and between .500" and .600" along with a modest improvement between .200" and .500". To reach those targets, Mark DeGroff developed a five-point strategy: 1) machine the seats for the bigger valves, 2) port/polish the spaces just above the valve seats, 3) modestly enlarge and polish the intake and exhaust ports, 4) unshroud the valves, and 5) do a multi-angle valve job. | The guys at Tom Henry Racing have painted a lot of engine parts in their days. Eastwood makes some of the best engine paints we've used. On a clean part, 2-3 coats of Eastwood engine paint will last for many years. Image: CHpg Staff. |
Stock valve sizes are 1.80" intake, 1.52", exhaust. You can install larger valves in 3800 heads, but you're limited by the induction hardened exhaust valve seats, part of which are machined away during the process. The largest exhaust which usually maintains acceptable seat durability for long-term street use is a 1.57 and a 1.55 is probably safer. With a 1.55 exhaust, a 1.90 intake is plenty big, if valve proportion is to remain .80-.85, however, intakes up to 1.97 in. can be used if exhausts are held to 1.55. We decided on a 1.90". intake and a 1.55". exhaust.
The first step in a DeGroff Port/Polish is to rough machine the seats for larger valves. This seat gives Mark a reference point from which to port the bowls. Image: CHpg Staff

Like many modern vendors of cylinder head preparation work, DeGroff's Head Service uses a Serdi "Valve Seat and Guide Machine", specifically a Model 60, to machine seats and guides. The Serdi advantage is more accurate machining of those parts of the head. The first of three sessions for our heads on the Serdi was to rough-cut the new, larger valve seats which would give Mark DeGroff a "reference point" to use during the initial enlargement of the ports just above each seat. Because of their shape, head porters call these spaces "bowls".

In addition, with our heads getting not only bigger valves, but multi-angle seats, there is a time savings in that, with the Serdi, DeGroff could enlarge the seats and rough-cut the seat angles at the same time. Lastly, Mark unshrouded the intake valve by taking a light cut out of the adjacent chamber wall.
"Bowl work" is a time-honored staple of the head porting craft. Using a carbide burr along with Standard Abrasives cartridge rolls, DeGroff enlarged and contoured the bowls. The intake valve guide bosses were smoothed and the exhaust guide bosses were removed.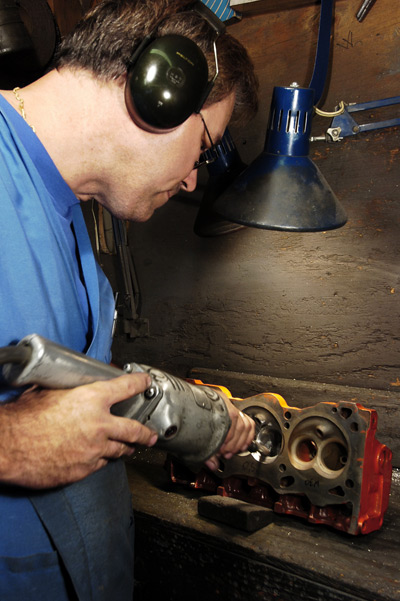 Bowl-work. Yeah, it's time consuming, but it's where the air flow is. Mark DeGroff, a bowl-work wizard, indeed, is at work with the high-speed grinder fitted with a carbide burr. He's doing preliminary modification of an exhaust bowl which brings the valve throat to a diameter appropriate for the new, bigger valve and cleans-up the rest of the bowl.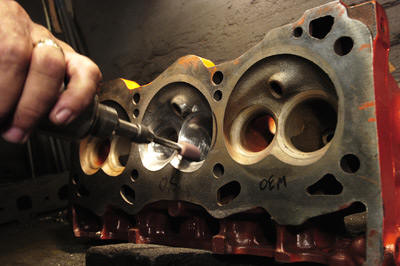 After the rough bowl work is done with an Eastwood carbide rotary file, Mark switched to Standard Abrasives' cartridge rolls to do the finishing work on the bowls and the chamber walls. Image: CHpg Staff.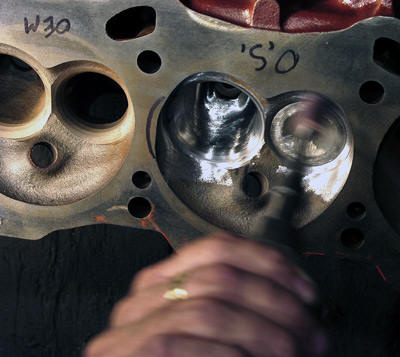 When doing the chamber, use old valves to prevent nicking-up the valve seat area. Image: CHpg Staff.
Using Fel-Pro intake gaskets (PN MS95809-1) as a template, DeGroff enlarged the intake port entries then ported the intakes down to the bowls. He enlarged the exhaust ports from the bowl to the port exit in the head.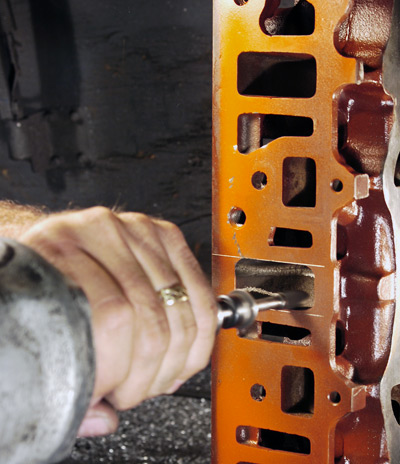 Initial porting of the intake port entry area is done with a rotary file. The outline of the port is scribed on the gasket flange, then the port is opened up to that size. Sure, you can go larger, but there'd be little advantage with a street hi-po motor like our V6. Image: CHpg Staff.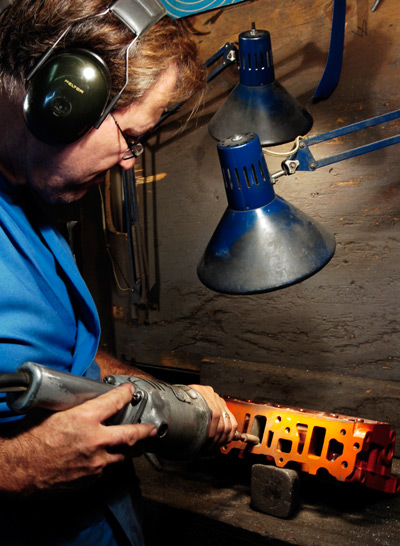 Bright lighting and a high-speed grinder is essential for good port work. Either an electric or an air grinder work well as long as they have a 1/4" chuck. You cannot use a drill motor for porting. Image: CHpg Staff.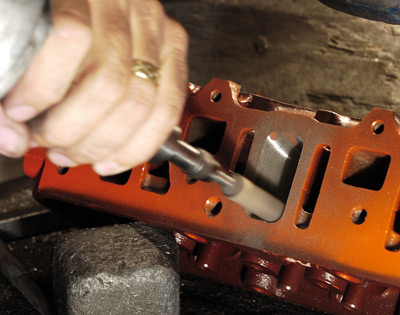 Once the rough work is done, switch to cartridge rolls to finish the port. Image: CHpg Staff.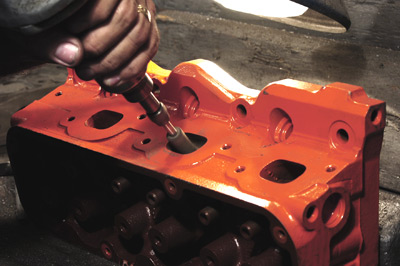 The exhaust port exits are done in a manner similar to the intakes. Image: CHpg Staff.
The "short-turn" or "short-side" radius is the holy grail of cylinder head airflow. It is where the floor of the port turns downward to the area of the valve seat closest to the port entry. There may be differing opinions amongst cylinder head experts about some aspects of porting, but one issue upon which they all agree is the importance of the short-turn radius. The stock heads are really terrible around their short-turn radii so DeGroff spent a lot of time on the tops of the bowls and how that area blends, through the short turn radius, to the port floor.
At this point, we stepped in and assisted DeGroff with the remaining grunt work: polishing the ports and the chambers with Standard Abrasives Flap Wheels and Cross-Buffs.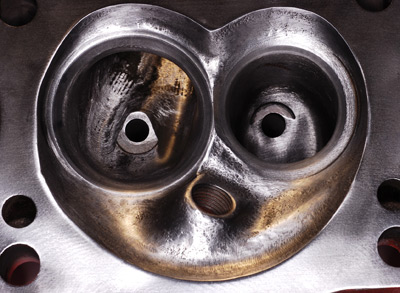 If you were sitting on the piston top, this is what the chamber on a finished DeGroff head would look like. Image: CHpg Staff.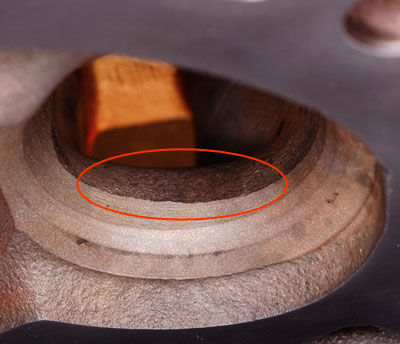 The short-turn radius (inside the red) of the stock head. Look at that nasty ridge, just above the valve seat. Man, that's bad. Image: CHpg Staff.
The same spot after DeGroff and our helper got through with it. Looks pretty cool, huh. It works even better than it looks. Image: CHpg Staff.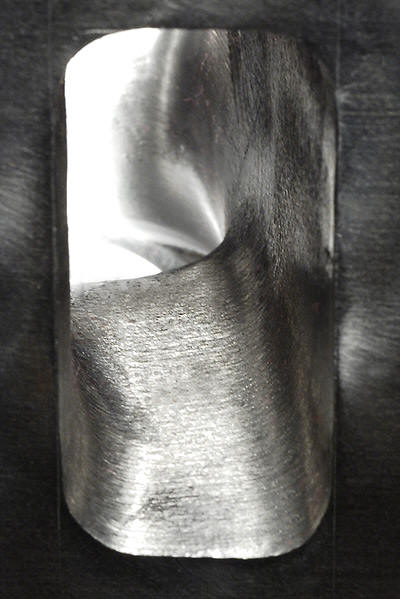 This is the floor of the same port, shot from the other end, showing how the port floor blends smoothly into the start of the short-turn radius. Image: CHpg Staff.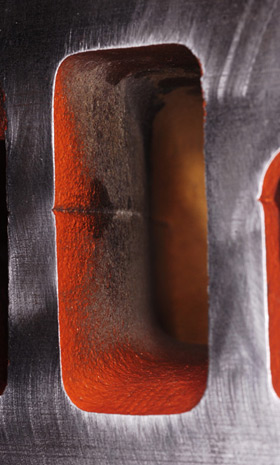 A stock intake port entry. Image: CHpg Staff.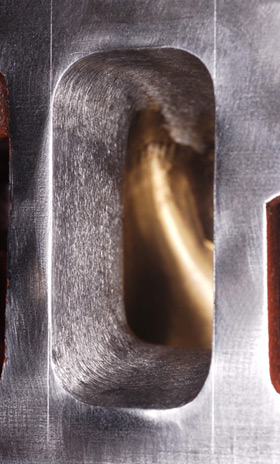 Same port entry, after our port/polish work. Image: CHpg Staff.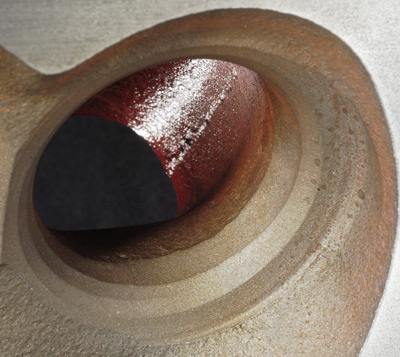 The stock exhaust seat and bowl–same ratty looking ridge just above the valve seat. Image: CHpg Staff.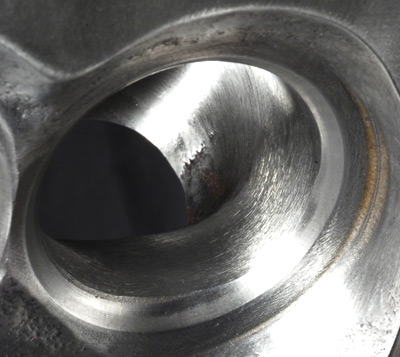 The much better exhaust seat and bowl. Image: CHpg Staff.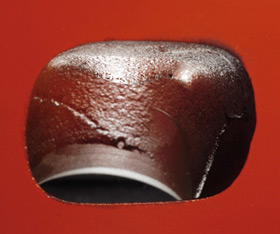 The stock exhaust port, shot from the exit. Image: CHpg Staff.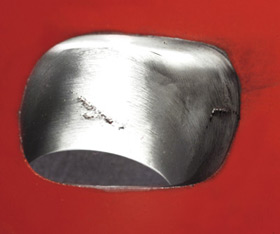 The exhaust port in a DeGroff head. Image: CHpg Staff.
With porting work done, it was time for the valves, themselves. There are three options for larger valves in 3800 heads. If you're budget-constrained, valves out of a '97-'04 Corvette's LS1 V8 work, provided you: 1) reduce the intake to 1.90", 2) with the .175" longer valves, use .175" shorter pushrods, 3) shim the springs and 4) know that longer valves and shorter pushrods make valvetrain geometry less than ideal, but acceptable, as long as use above 6000 rpm is avoided.
If you're building an all-out, racing 3800 and cost is no object, try INTENSE-Racing "Severe Duty" valves. Developed for 450+ hp. supercharged or turbocharged 3800s and made by Manley Performance Products, they're stock length, but have 5/16" stems, so you must install 5/16" guides.
Wanting to avoid geometry issues and figuring Severe Duty valves were unnecessary to make 260-hp on the motor and 320-hp with nitrous, we split the difference and special-ordered Manley, "Gen II Race Master" valves (PN 11204 and 11205) which have stock diameter (8mm) stems. We specified 1.90," intake, and 1.55," exhaust, diameters, stock-length and lock grooves in the stock locations. The Manley intakes are made of NK-842 stainless steel and the exhausts are made of XH-426 stainless which has good reliability and durability at up to 1200°F. Both have stems hard-chromed to .002" depth and swirl-polished heads.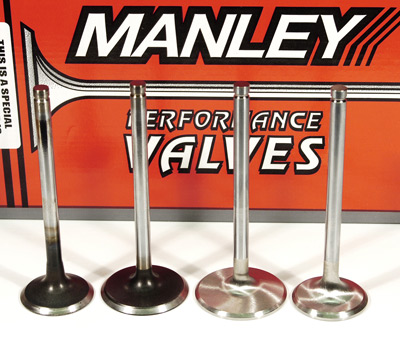 Stock valves (left pair) and the Manley Race Master valves. The Manleys have stock stem diameters, are stock length and use stock valve locks. Image: CHpg Staff.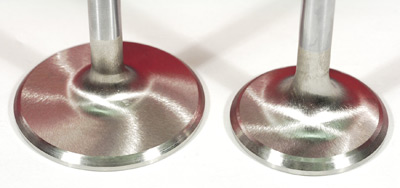 Look at those pretty, swirl-polished heads on our Manley valves! Image: CHpg Staff.
The valves were faced with a Sunnen valve grinding machine. Image: CHpg Staff

Manley Race Masters are an excellent choice for our application, unblown, nitrous oxide, under-8000 rpm in an aggressive, high-performance street or racing duty cycle.

While costing more than LS1 pieces, Gen II Race Masters preserve proper valve train geometry and cost a third less than Severe Duty units plus--you don't need new guides. Mark DeGroff chucked the Manley intake and exhaust valves in his Sunnen valve grinding machine and put a two-angle, 30°/45° face on each.
The next step was to move the heads back to the Serdi Machine and do the final cut of the valve seats. The precision Serdi is a real time saver in that it cuts all the valve seat angles at once with better accuracy than old-style, valve seat grinders. In addition, when necessary, it can machine curved surfaces rather than multiple angles. For the intake seats, Mark fitted the Serdi with a specially-made cutter, selected by DeGroff Cylinder Head Service for optimum results in high-performance applications, which cuts a five-angle seat (35°, 45°, 55°, 65°, 75°) with the 45° seat angle 1mm wide. On the exhausts, DeGroff used his own #1 High-Performance cutter to machine a two-angle-plus-radiused seat which starts with a 30° top cut, goes to a 45deg 1.5mm wide seat then a 10mm descending radius where the seat transitions to the bowl. The final step was the time-honored hand lapping of the valves and seats.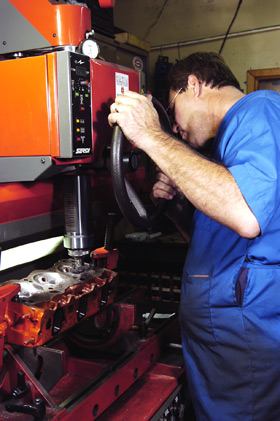 Mark DeGroff at the controls of the Serdi 60, finishing-up the valve seats. Image: CHpg Staff.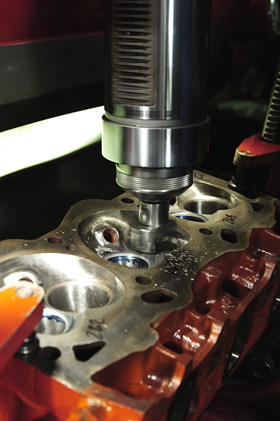 The Serdi uses a pilot in the valve guide to index. Valve seats are machined rather than ground. Image: CHpg Staff.
An enhancement to accuracy and time savings is that the Serdi cuts all angles or radii of a muti-angle valve seat at once. Image: CHpg Staff.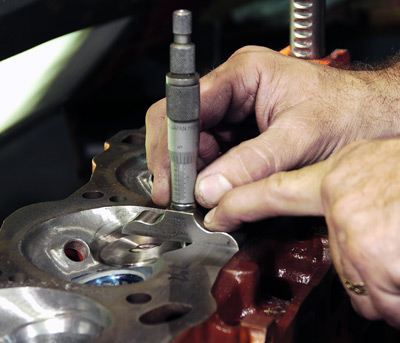 The valve seats are cut such that the valve is a specific distance below the head deck and that dimension is checked with a depth micrometer.
Image: CHpg Staff.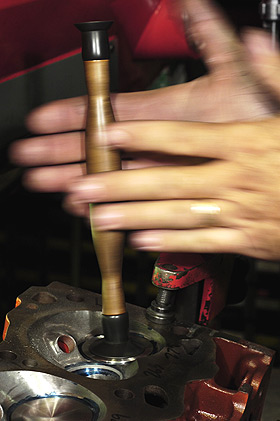 The final step in a DeGroff street port/polish job is hand-lapping of the valve faces and seats. Image: CHpg Staff.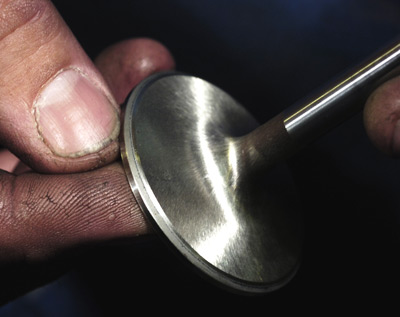 One of our Manleys, lapped and ready for final assembly. Image: CHpg Staff.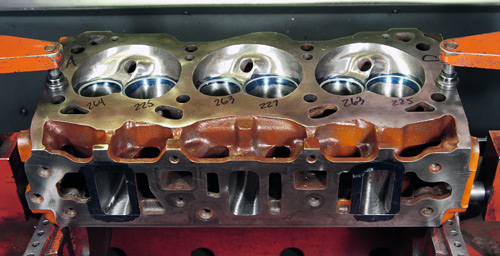 A DeGroff 3800 Series II head, ready for final flow test. Image: CHpg Staff.
Next, it was back to DeGroff's Quadrant Scientific flow bench to test our work. The results in the tables below were achieved with a test pressure of 28 inches of water.
Production
Lift

inches

Intake Flow

CFM

Exhaust Flow

CFM

Ratio

.100

56.8

45.8

.80

.200

112.8

100.2

.92

.300

159.0

132.0

.81

.400

180.6

144.7

.78

.500

188.0

145.5

.76

.600

192.6

151.3

.76
DeGroff modified
Lift

Inches

Intake Flow

CFM

Change

Exhaust Flow

CFM

Change

Ratio

.100

71.9

22%

59.22

28.8%

.82

.200

134.7

21%

124.8

22.2%

.93

.300

189.7

17%

152.2

15.4%

.88

.400

202.8

10%

167.0

12.2%

.82

.500

208.5

6%

172.7

16.1%

.85

.600

212.2

8%

173.1

15.4%

.82
As you can see, we achieved the goals set at the onset of our head modification program.
The flow bench never lies. The big C-clamp and the modeling clay might not be high-tech, but they work well. The FlowLab equipment is no longer made, perhaps because it was too technologically-advanced and expensive but, through its computer-controlled automation, it quickly and accurately flow tests a port. Image: CHpg Staff.

After an earlier version of this article was published in the Spring of 2006 in Camaro Performers magazine, some members of V6 forum sites were aghast that we didn't use Abbott Racing Heads for our port work. Typical of childish behavior sometimes exhibited on forums, there were even expletive-laced tantrums posted because we didn't use the head porting vendor the "clique of experts" felt was best.

Drag racer Lance Abbott has done a lot of racing 3800 cylinder head development using his V6-powered '98 Pontiac Firebird drag racer. Lance told us in a recent telephone conversation that he's run a 12.48 using his ported intake, his Stage 3 head, a special Comp Cam, long-tube headers and a pair of ET Street tires on the rear. That's one potent 3800!
Abbott Racing Heads offers three modified cylinder heads for '95-'02 V6es. Flow numbers on the Abbott web site show the intake port in their "Stage 3" head clearly outperforms our DeGroff heads once you go past about .350" valve lift but we'd expect nothing less from a head Abbott characterized as an all-out drag racing part and listed on his web site as containing, "...every ounce of our 30 years of head porting experience. We believe these heads will out-perform any other heads on the market."
People who actually know why certain cylinder head modifications work understand that intake ports in a set of heads intended for street high-performance use rather than hardcore drag racing, may not flow as well at high valve lifts.
The flow data, also, shows that, below .300" lift, our DeGroff heads are, actually
, a little better than the Abbotts. The DeGroff exhaust, also, flows better below .300" lift than the Abbott 3 and, interestingly enough, above .300", the DeGroff exhausts have similar flow characteristics to the Abbottt.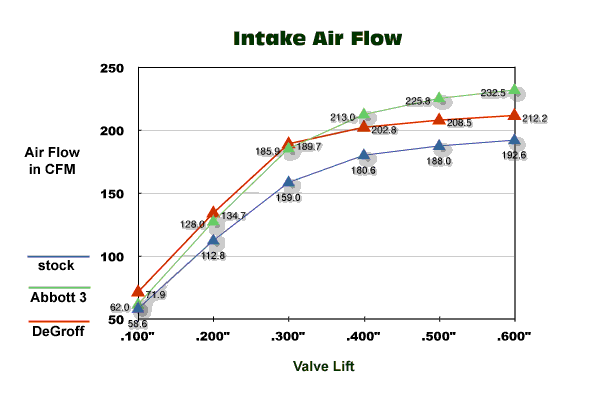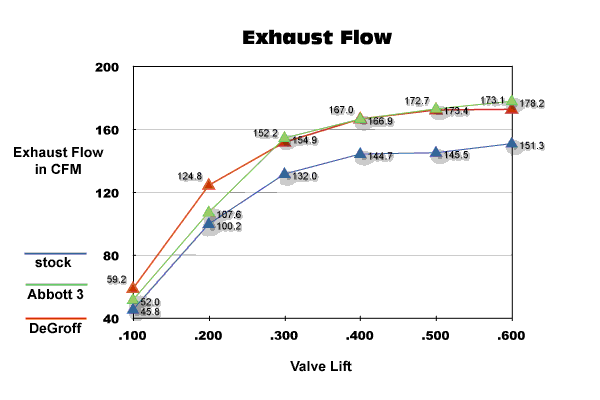 Intake and exhaust flow charts for stock, Abbott Stage 3 and DeGroff heads. Graphics: CHpg Staff.
If you want the ultimate 3800 head for drag racing, you need a vendor experienced with racing head development for that engine and Abbott Racing Heads is a good choice. On the other hand, if you're building a 3800 for street high-performance where good drivability, snappy throttle response and a wide torque curve is important, then, on the basis of its superior low-lift flow numbers; maybe the DeGroff is a better alternative.
The final machining step with the heads was to lower the valve guide stem seals by machining the top of guide. If you're going to use a cam with over .450" lift, you must perform this step to prevent contact between the stem seal and the valve retainer.
Image: CHpg Staff.

Lance Abbott spent countless hours developing his intake ports and has validated that work with extensive flow testing along with a lot of drag strip testing. There is little doubt as to the fruits of this work as Lance's car as gone mid-12s.

On the other hand, Mark DeGroff had never ported a set of 3800 heads before we walked in his shop and he only did one set for this project. In his first and only attempt, we about equalled or exceeded the air flow numbers of an all-out racing head except for intake flow above .350" lift and, we were ok with that because these were street heads. We wanted modest rather than drag-race-style intake ports. It'll be interesting what the kids on the forums have to say, now.
Near the end of the port/polish process, Mark checks the combustion chamber displacement. Image: CHpg Staff.

You seal-off the chamber with a section of plastic, then fill the chamber with solvent
from a burette and note the amount of solvent used. That figure is the chamber displacement. Image: CHpg Staff.
With our airflow testing complete, Mark chucked each head back in the Serdi and machined the tops of the valve guides. This must be done to gain adequate clearance between they and the valve spring retainers at maximum valve lift when a high-lift cam is used. That was followed by displacement-balancing (or "CC'ing") the combustion chambers. At this point the head work was complete.

The Camaro Homepage's "Top Eight Things to Remember about Porting 3800 Heads"
1) Ports in heads which make good power are designed with size and shape in mind, not just maximum flow at maximum valve lift.
2) Big ports make impressive flow numbers, but maybe not a quick-revving engine. To make power in a hurry, you want air velocity in the intake ports. Smaller ports with big flow numbers have velocity.
3) The short side radius on the intake port is the most important area in the cylinder head.
4) Most of the air/fuel mixture flows across as little as 120 degrees of the intake valve's circumference.
5) The blend area, above the exhaust valve seat is critical to good flow.
6) You need a sharp break at the exhaust port exit, not the common 35- or 38-degree angle.
7) The color of combustion residue in the chamber tells much about where the mixture is burning. Ideally, you want consistent coloration throughout the chamber.
8) Low-lift flow (.100-.300" lift) is critical to an engine that revs quick everywhere in its torque curve. You can't see this on the dyno, but if the heads don't flow well at low valve lifts; drivers will say that the engine has poor response.
After a thorough solvent wash of all parts, DeGroff installed the valve stem seals out of a Fel-Pro gasket set (PN HS 9917 PT-2), slipped the Manley valves back in place, added retainers and locks (then measured spring heights at 1.790" to 1.800", right at the desired, 1.800".
We're at one of the places in this series where the Tom Henry RS project on the Camaro Homepage differs dramatically with the magazine series which published in Camaro Performers during 2005 and 2006, on which this is based. For the magazine series we used Comp valve springs, retainers and locks along with the SLP 1.8 rockers. Unfortunately, that combination didn't work well above 5800 rpm. Beyond that, there was a significant torque loss caused by valve float. To complete the project for the magazine, deadlines forced us to go back to the stock, 1.6:1 rockers to end the valve float. For the Internet version of this project, because we had more time to solve the problem, we decided a more sensible solution was to change some other valvetrain parts to eliminate the valve float.
Katech, Inc. (see sidebar) is one of the top Chevrolet race engine development firms in the World. Its engines have powered Corvette C5-Rs and C6.Rs to five wins at the 24 Hours of LeMans and six American LeMans Series Championships in the last eight years.
We figured there were few better experts on racing and high-performance valvetrains in GM V6 and V8 engines than Katech. Since, like the Gen 3/4 V8 family, the 3800 is an OHV engine and since it uses the same lifter, spring, retainer and lock designs as those V8s; we figured Katech might have a few suggestions to help us fix our valve float woes.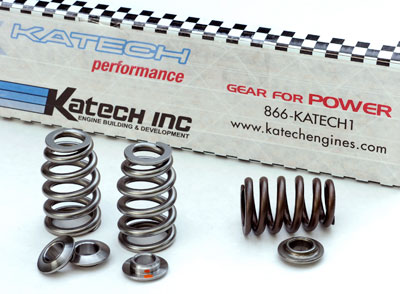 At right is a weak-suck, stock spring. At left are the Katech springs which were originally designed for Gen 3 V8 applications and are about the stiffest, single, beehive spring available for a 3800. Image: CHpg Staff.
| | |
| --- | --- |
| We contacted Caleb Newman, Katech's Vice President and Director of Aftermarket Operations. After a couple of email exchanges and a telephone conversation with Newman, we decided a little less valvetrain mass and a slight increase in valve spring pressure might solve our problem. The first step was to install Katech Performance "High-Lift Beehive Valve Springs" (PN PSI-LS1511) which spec at 125-lbs on the seat and 332-lbs open at .550" lift and 352-lbs at .600". This spring is a bit more aggressive than the Comp 26918 (130 on the seat, 302 at .550" and 318 at .600") we used initially. We hope the Katech springs along with Katech's lighter retainers and a new, lower-mass, 1.8:1 rocker we'll tell you about in Pt. 3 will provide the valvetrain stability we need. | Each Katech spring was tested and met its design specification. Always test new springs. Image: CHpg Staff. |
Mark DeGroff tested each Katech spring and all met the manufacturer's specs. He installed the springs, added a set of Katech Performance 7° Titanum Retainers (PN KAT-4678) put the locks in place and our set of DeGroff heads was complete.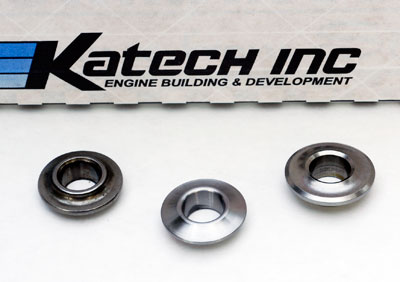 Why did we switch to Katech valve train parts? Less mass is one reason. L-to-R are, 10.1-gram, stock steel retainer, Katech's 5.2-gram titanium retainer and Comp's 7.2-gram titanium retainer which we used previously.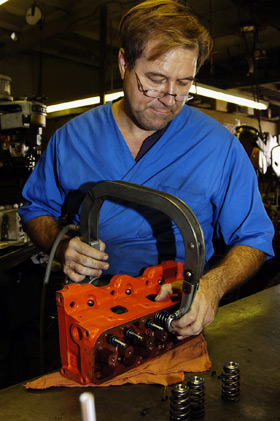 DeGroff, using an air-powered spring compressor to assemble one of our heads. Image: CHpg Staff.
Camshaft Selection and Installation
Flow testing validated our heads to .600 in. valve lift, so we targeted .550" lift for our engine. Another issue we considered is valve noise–the clacking you may hear when the valves hit the seats in an engine fitted with an aftermarket camshaft having aggressive closing ramps. The faster the valve is going when it hits the seat, the louder that noise will be. Some misidentify valve noise as lifter noise because the two sound similar, however, once you use a listening device to pinpoint the source, it may be obvious that its valve seat noise and not lifters you're hearing. Sometimes an engine controls' knock sensing will be fooled by valve noise and the ECM will enable knock retard (KR) even though no detonation is present. We call this "false" knock retard.
Anytime you choose an aftermarket cam with high-intensity lobes for an engine with knock sensors, you walk a fine-line between having the most aggressive lobe profile as possible and lobe profiles which are so noisy when the valves close, that they cause false KR.
Another sticky issue with aftermarket cams and OBD II engine controls is misfire detection. Many aftermarket, performance cams have more overlap and lobe centerlines which are closer together than a stocker. Both situations may cause the engine to run rough at idle. Problem is, if the idle is too lopey, OBD II may set a diagnostic trouble code (DTC) P0300, which is random misfire.
It is possible to disable certain features of the on-board diagnostics by reprogramming to preclude the system from setting misfire codes but that requires either an experienced calibration engineer or your own skills with engine controls cal software such as "HP Tuners".
But, it's too easy to disable parts of OBD II. We like the challenge in modifying our V6 to the 260hp level but doing it in such a way that all engine controls diagnostics continue to function properly, the engine idles nicely and the engine's exhaust emissions such that the car can pass the most stringent state exhaust emissions tests, such as California's infamous BAR97 type "Smog Check". Only those with enough tuning knowledge to be dangerous or those who are just lazy avoid this challenge by disabling on-board diagnostics on street-legal engines.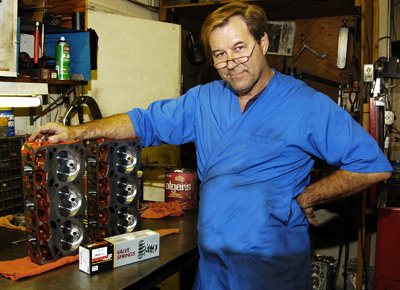 Mark DeGroff and a set of his 3800 heads. These heads match some of the best, drag race heads in the 3800 racing community except for flow above .350" lift. DeGroff heads are a perfect choice for a street high-performance 3800 of 225-275 hp. Image: CHpg Staff.
Comp Cams has an assortment of 3800 series II cams in its catalog, however, Comp Engineer, Billy Godbold suggested a custom-ground cam for this project. Comp does that regularly and doesn't charge extra for it, so we took his advice. The "Tom Henry RS cam" is a hydraulic roller (PN 76-0000-9) with a, #3341 intake lobe and a #3342 exhaust. Duration at .050 in. lift is 206°, intake and 212°, exhaust. It's ground four degrees advanced with a 116° lobe separation angle. With 1.6:1 rockers, valve lift is .480-in. With our 1.8:1 rocker arms, valve lift will be .540", quite a bit more than the stock, .413".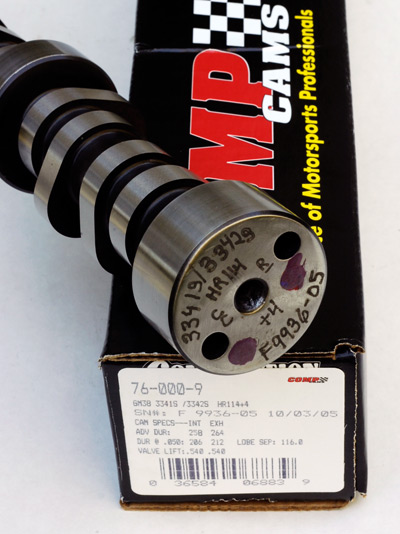 The backside of the Comp Cams Tom Henry RS camshaft shows Its custom grinding specs etched on the of the rear journal. Image: CHpg Staff.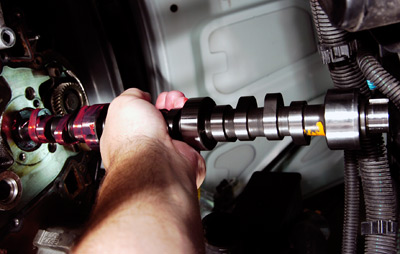 It's easiest to install the cam from below. Prelube the rear third, tip the rear of the cam up just slightly and into the engine. As you do this, the front of the cam will be just inside the passenger side cooling fan. As the rear journal slides in, level the cam then push the rear third into the engine. Lube the remaining lobes and journals, then carefully push the cam the rest of the way in. Image: CHpg Staff.
We pre-lubed the cam with Red Line Engine Assembly Lube which has three times the film strength of typical assembly lubes and will not clog oil filters. We installed the cam then added a Rollmaster single- row timing chain set (PN CS6141). The Rollmaster is one of the many 3.8 V6 performance parts manufactured Australia where hot rodding those engines is big. Rollmaster timing sets are distributed in the States by the Engine Pro brand. We initially installed our cam "straight-up", the Rollmaster's crank sprocket has multiple keyways, allowing as much as 8° advance or retard. Caution: with cam timing other than straight-up or valve lift more than .550 in., check piston- to-valve clearance. It's best to replace the chain damper anytime the chain is changed, so we added that (PN 24503893) which we ordered from GM Parts vendor, Tom Henry Racing.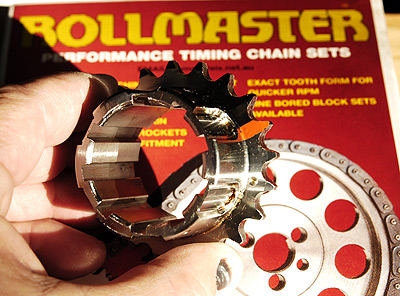 The crank sprocket for an Rollmaster timing chain assembly. We've highlighted the TDC mark with orange paint. The multiple keyways are how the Rollmaster can be adjusted to alter cam phasing. Image: CHpg Staff.
Camshaft degreeing validates cam timing and crankshaft keyway indexing and is required during a cam change. Comp Cams' has great camshaft checking equipment. We used: TDC Deck Plate Stop (PN 4933), 7.5" Degree Wheel (PN 4787), Crankshaft Socket (PN 4798), GM Cam Degree Tool (PN 4925), and 1" Dial Indicator (PN 4909).
We used the "intake centerline" (ICL) method to degree #1 and #3 intake lobes. We turned #1 intake to maximum lift, zeroed the indicator then rolled the motor over until got to the base circle and determined the ICL was 118°. We checked #3 ICL and it, also, was at 118°. We checked #3 ICL and it, also, was at 118°. Once we advanced the cam 2°, using the Rollmaster adjustable Timing Chain, ICL was the 116° required by Comp Cams.
A detailed explanation of the intake centerline procedure is in Comp Cams' instruction booklet. Lastly, we unpacked a set of Comp hydraulic roller lifters (PN 875-12), to fill the lifters interiors, we soaked them for several hours in Red Line 10W30 synthetic oil, then dropped them into the lifter bores. Finally, we replaced the front cover using a Fel-Pro Timing Cover gasket set (PN TCS45971) and tightened the oil pan bolts.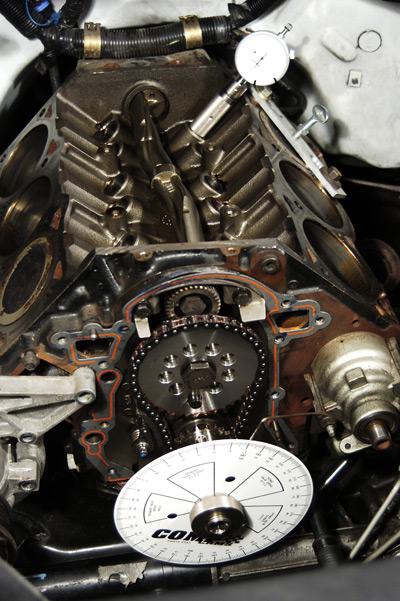 The Rollmaster chain assembly, damper and Comp Cams degree tools are in place and we're ready to degree the cam. Image: CHpg Staff.
.
Comp Cams supplied the hydraulic roller lifters. We selected Comp's Pro Magnums because they'll handle fast acceleration rates and a 6400 RPM rev limit without pump-up. Image: CHpg Staff.
The Tom Henry RS project has a lot of sponsors, but a few deserve special mention: INTENSE Racing's Scott Cook, Comp Cams' Billy Godbold, cylinder head wizard Mark DeGroff, Hypertech's Jim McFarland and Katech's Caleb Newman went out of their way to help and we appreciate their efforts.
In Part Three of the Tom Henry RS project, we'll finish the engine build-up and we'll do some mods to other parts of the car. We'll see you back here in a few months.
Project Sponsors:
Comp Cams
3406 Democrat Rd.
Memphis, TN 38118
800 365 9145
www.compcams.com

Mark DeGroff's Cylinder Head Service
18736 Parthenia #2
Northridge, CA 91324
818 701 5274
Eastwood Company
263 Shoemaker Rd.
Pottstown PA 19464
800 345 1178
www.eastwoodcompany.com
Federal Mogul Corporation
(Fel-Pro)
26555 Northwestern Highway
Southfield, Michigan 48034
248-354-7700
www.federal-mogul.com/aftermarket
Katech, Inc.
24324 Sorrentino Ct.
Clinton Township MI 48035
586.791.4120
www.katechengines.com
Haynes Publications, Inc.
861 Lawrence Dr.
Newbury Park, CA 91320
800 442 9637
www.haynes.com/na.html

Helm, Inc. (GM Service Manuals)
14310 Hamilton Ave.
Highland Park, MI 48203
800 782 4356
www.helminc.com

Hypertech
3215 Appling Rd.
Bartlett TN 38133-3999
901 385 1888
www.hytpertech.com

Per-Fit Corporation (Rollmaster)
728 S. Division
Grand Rapids, MI 49503
616 247-6572
www.romacusa.com

Mac Tools
505 N. Cleveland Av.
Westerville OH 43082
800 622 8665
www.mactools.com

Manley Performance Products
1960 Swarthmore Av.
Lakewood NJ 08701
800.526.1362
www.manleyperformance.com

Red Line Synthetic Oil Corp.
6100 Egret Court
Benicia CA 94510
800 624 7958
www.redlineoil.com

SPX Kent-Moore
28635 Mound Road
Warren, Michigan 48092-3499
800-468-6657
www.spxkentmoore.com

Tom Henry Racing
5886 Route 8
Bakerstown PA 15007
877 866 7278
www.tomhenryracing.com