Building the Tom Henry RS
Part 4: Suspension Mods, Tires, Wheels, Headers and other Cool Stuff.
by Hib Halverson
At the end of Part Three, we changed the valvetrain of the 3.8-liter V6 in the Tom Henry RS. We installed new, Yella Terra "Ultralite" 1.8:1, aluminum roller rocker arms, Katech valve springs and Katech titanium retainers on our 3800 Series II V6.
Ultralites are nearly 25% lighter than the stock 1.6 rockers and 8% lighter than the SLP aluminum rockers we took off. What's even better about the new Yella Terra rockers is from where in the rocker the weight was removed. It was mainly taken from the valve end where mass reduction would have more impact. The Katech springs (PN PSI-LS1511) have a little more pressure than the Comp springs in the motor previously and the Katech "ti" retainers (PN KAT-4678) are a little lighter than the Comp retainers we took off.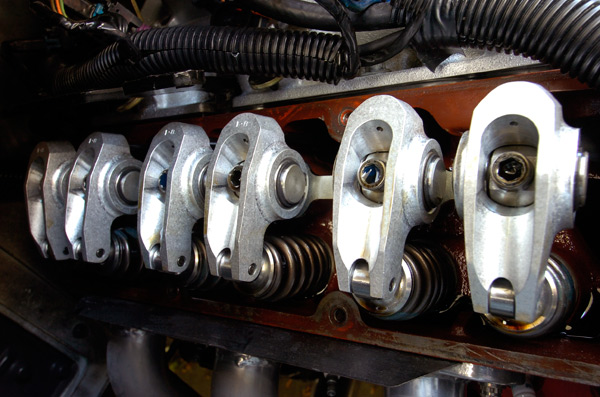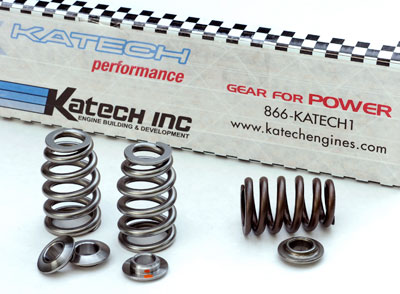 These parts saved us from the valve float problems we experienced during previous parts of this project. At one time we were unable to get the engine to run hard above 5700 rpm or so because of that. A little less valvetrain mass in the Yella Terra Ultralite rockers and Katech titanium retainers and a little more spring pressure from Katech valve springs and the valve float was eliminated. The engine pulls safely to it's 6200 rpm rev limiter. Image: CHpg Staff.
Less valve train mass and a little more spring pressure was the remedy for a valve float problem we experienced when running the engine over 5800 rpm. Before we went back to the dyno to validate that theory, we wanted to get some drive time on the new parts. We, also, wanted to have some headers made for the car. Finally, we wanted to perform some more suspension mods and add a few "safety" features.
A goal of this project was to have a 250-hp engine and pass an exhaust emissions test–not just any old "sniffer" test, either. It had to be the stringent "Enhanced Smog Check" required in the State of California's urban areas. Similar tests may be required in a few other states. We took the Camaro to Quality Auto Service in Pomona, California to see if the engine would pass with the modifications to date. Owner, Mike Garibay, is well-versed in emissions testing and service work. His shop is one of our favorite general repair facilities because of its good customer service.

The Enhanced test combines inspection of emissions parts with an exhaust gas test taken while the car runs on a moderately-loaded chassis dyno at both 15 and 25 mph. We easily passed the test. In fact, Garibay commented that he didn't see very many mod'ed cars that ran so clean.

Mike Garibay readies our car for Smog Checking by inserting the "sniffer" in our Flowmaster exhaust. Image: CHpg Staff.
Suspension, Wheels, Tires
The Tom Henry RS's rear suspension felt, well... "sloppy" is the best way we can describe it, in accel/decel transitions, during quick shifts at wide-open-throttle or on roads were slab joints or tar strips get the suspension hopping. This is caused by the soft rubber mount GM stuck on the end of the rear axle torque beam along with the weak-suck, stamped-steel beam flexing under load. Another problem? During hard acceleration, drive torque acts on the beam's length to decrease rear tire loading. This reduces traction, both in a straight line and accelerating out of corners. Lastly, when you lower a 3rd or 4th Gen Camaro, traction degrades even more due to decreased anti-squat caused by the change in rear suspension geometry.
Popular with autocrossers, road racers and drag racers is Global West Suspension's "TracLink" assembly (PN TSC-23). It alters rear geometry such that its leverage point moves to a more optimum location. Drive-torque-induced tire loading changes from negative to positive improving traction during acceleration, both straight line and out of turns. What's more, TracLink eliminates wheel hop and has a pinion angle adjustment. Finally, of interest to drag racers required to add a driveshaft loop, the mounting points for that are built into the TracLink.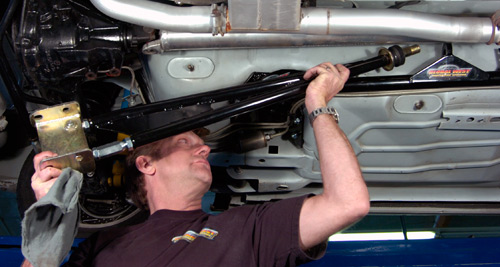 Global West's owner, Doug Norrdin, and an assistant, installed the TracLink (PN TSC-23) in a few hours using a drill and common hand tools. For the complete photo sequence showing how to install a TracLink, click here. Image: CHpg Staff.
Global West markets this product mainly for V8 cars, but the kit for a 3rd Gen V8/automatic Camaro, also, fits a 4th Gen V6. The installation requires removal of the left rear seat cushion, drilling some holes in the left rear seat well and one hole in the transmission mount crossmember. Other than that, TracLink is a bolt-on for all 4th Gens.
| | |
| --- | --- |
| The Global West Anti-Squat Bracket kit for 82-02 Camaros. Image: CHpg Staff. | Like some racing-derived performance enhancements, this one has compromises for road cars. When it comes to noise, TracLink is not for the faint-hearted because, since it dispenses with the large rubber isolator at the front end of the torque beam, powertrain noise and vibration in the interior increases. We totally want the Global West TracLink's positive affect on acceleration and handing, so we'll take the noise, however, those expecting Camaros with modified suspensions to have interior noise-and-vibes levels the same as or close to stock should carefully consider this product. |
The TracLink installation was done by Global West's technicians at its factory in San Bernardino, California and included the addition of "Rear Anti-Squat Brackets" (PN VTC-27). These brackets must be welded to the rear axle housing. Once in place, they compliment the TracLink by further improving traction exiting turns. Additionally, they are ideal for a lowered car because they further alter rear suspension geometry such that its instantaneous center moves to a point more appropriate when ride height is reduced. That change increases the rear suspension's percentage of anti-squat such that that car tends to hook better during hard acceleration.

Lastly, these brackets have two positions for the rear control arm pivots allowing drag racers to adjust the car's bite for track conditions or changes in ride height. With the TracLink and Anti-Squat Bracket installations complete, we bid all the good people at Global West farewell and headed back to our shop.

Like most of Global's suspension parts, the Anti-Squat Brackets are black powder coated. Because the brackets must be welded in place, the coating must be removed in the places where welding will take place. Here, Global's Eric Norrdin uses an abrasive disc to do that. For a photo sequence showing how to install these brackets, click here. Image: CHpg Staff
We wanted more radical tires and wheels, so we swapped the 245/50ZR16 Goodyear Eagle F1 GS-D3s on stock, 8" wheels we'd been using up to now for a set of 265/40ZR17 Eagle F1 Supercars on 9.5" Fikse Profil 5Ses. We should add that the F1 GS-D3s were on the car for several years providing good dry and wet traction and outstanding tread life on a car that gets driven pretty hard.
The Fikse Profil 5S is a forged-aluminum masterpiece. Each is assembled with aerospace fasteners and is serialized to facilitate quality control and help verify ownership of–heaven forbid–a stolen wheel. Image: Paul Conrath/Fikse USA.

The Fikse (it's "fick-sea" not "fis-ski", by the way) Profils are awesome-looking wheels. Because Fikses are so light for a street wheel, we could go from a 16x8 to a 17x9.5 yet not increase unsprung weight, but we expected this, considering their racing pedigree–cars on Fikses have won both the World's preeminent endurance races, the 24 Hours of Daytona (4 times!) and the 24 Hours of LeMans.

The Fikse Profil 5S is a modular design with a rotary-forged, CNC-machined, clear powder-coated, aluminum center. The rims are forged, heat-treated aluminum. "TechniPolish" is Fikse's standard finish and features a robust, liquid-cured clearcoat on the diamond-turned center section. The mirror-polished rims are left polished and uncoated to allow for touch-ups as needed in case of minor scrapes.
While brothers Matt and Jim Fikse (yep, it's a family operation with their name on the building) couldn't share specific manufacturing secrets with us, they did reveal that, unlike most wheel companies, Fikse USA manufactures its own centers and rim halves. Having done that since 1992, makes Fikse one of the few companies in the U.S. that controls the wheel-making process from start to finish. Doing that enables it to maintain a high level of quality few manufacturers can equal and none exceed. Fikse builds 4th Gen. Camaro wheels in two offsets, 38mm and 51mm. We chose the 38s because they slightly widen the car's track for a better look.

Needless to say, Fikses are not cheap, so wheel locks are manditory to deter theft. Initially, we reused the stock Camaro wheel locks but they didn't look very good. The Profils come with high-quality, McGard wheel nuts so we went looking for a set of McGard's locks, figuring they'd better match the nuts' appearance.

Each of these wheels weighs about as much as the stock 16x8s they're replacing, in-spite of being larger in diameter and wider. Image: CHpg Staff.
To protect high-end wheels, you want experienced tire specialists, like Tucker Tire's Bernie Berthet, mounting your tires. Fikses require specialized mounting procedures and Tucker provided that service. Image: CHpg Staff.

McGard makes perhaps the best wheel lock in the industry. They're made of hardened steel...not just "case-hardened," but hardened throughout and tempered. Like most locks, they require a special "key tool" and the design of the key and the pattern in the lock allow a virtually unlimited number of computer-generated combinations.


To install or remove the lock, the key's collar, aligns the key to the lock. All you need to is gently push the key over the lock then turn the key until the patterns engage. McGard locks are nickel-chrome plated. Basically, these locks will probably outlast the car. The simple function, outstanding security and excellent durability of the McGard design might be why they're OE on some 30 car lines, worldwide.
Image: McGard, LLC.

What makes the McGard locks easy to use is the key's locating collar. You just gently push it on the lock and turn until it engages. The locks, themselves, look much better on our Fikses than did the OE GM locks.

Jumping from the F1 GS-D3 to Goodyear's ultimate, dry traction tire, the wider, more grippy, F1 Supercar; improved straight line bite, cornering power and steering response. The Supercar, in 265/40ZR17, was originally developed for the C5 Corvette Z06 and is one of only a few tires which bridges the gap between all-round, ultraperformance tires, such as the "D3", and DOT-approved, radial road race tires which are not acceptable for general street use because of short tread life and almost nonexistent, wet traction. While the F1 Supercar is more sticky than what we took off, admittedly it's not the drag race tire that a "drag radial" from Goodrich, Nitto or Goodyear might be. Perhaps we'll try one of them in the future.

The main advantages to the Tom Henry RS with the F1 Supercars are improved at-limit handling due to more traction coming from a wider tread, more aggressive rubber compound and a tread block design skewed towards handling. Additionally, the F1 Supercar casing is designed to improve steering feel and response.
Where the Supercar gives-up a little to the F1 GS-D3 is in 1) wet traction--the D3's tread design is superior when it comes to channeling water away from the contact patch 2) tread life--because the Supercar has softer rubber and more shallow grooves--and 3) noise and harshness.

We hauled the Fikses and Goodyears over to Covina, California's Tucker Tire Service Co, where they were mounted and balanced. On return to our shop, we stuck the THRS up on jacks and swapped the tires and wheels then torqued the McGard nuts and locks. Man...those Fikses and F1 Supercars are just so damn pretty!

The Tom Henry RS on Fikses and F1 Supercars. The Goodyears really grip by virtue of very rigid blocks on the outside of the tread and shallow tread depth. Image: CHpg Staff.
Rollback Blues
After a month or so running the new valvetrain pieces, we decided to check how modifications to date affected the car's 1/4-mile performance. We often acquire acceleration data using a Vericom Performance Computer, a benchmark for medium-priced, self-contained, vehicle dynamics testers. These units are used by government agencies, vehicle manufacturers, tire companies, independent testing facilities and discriminating car enthusiasts needing accurate vehicle dynamics data from an on-board device. The Vericom VC3000 has a two-axis accelerometer core, 400Hz sampling rate, and ability to upload data to a PC via a USB port. It displays data on a 128x64 LCD screen, can recall up to 256 tests from memory and–we saved the best for last–with the DAQ model, ability to record engine controls data via the car's diagnostic link connector (DLC) as well as from up to six optional sensors.
We installed the VC3000DAQ, then headed for our back-road testing venue, but in a "reality bites" moment, part-way there; the car quit. We came back to the shop riding in a Freightliner rollback with our wallet 120 bucks lighter.
The Vericom VC3000's large display and improved keyboard make it nicer to use. The built-in bubble levels make mounting and leveling the Vericom before use quite easy. Image: Vericom Computers.

Some failure caused by our mods? Hardly!

After doing the "cranks but won't run" diagnosis in the Camaro Service Manual, we figured the fuel pump was bad. We pulled the exhaust–potentially a nightmare job made easier with Eastwood's "EZ-Pull" exhaust joint separating tool (PN 43583)–drained the fuel, got the gas tank out, pulled the pump "bucket" and bench-tested it.
The pump was stock, went 58,087 miles and...was deader than a freakin' door nail. Sheesh! So much for GM fuel pump durability. We emailed Racetronix and ordered its High Performance Fuel Pump System (PN F99-FPKG-2).
We had to make use of the downtime while we waited for the Racetronix parts to arrive, so we worked on changes to the car which would improve safety when driving at higher speeds in wet weather or at night.
Believe it or not, it does rain in Southern California and a few storms late last winter had us trying Super Silicone wiper blades (PN 93060) from WeatherTech Auto Accessories. Made for WeatherTech by PIAA from "activated" silicone rubber, as the blade wipes; it leaves a slight residue which builds over time, causing water to bead making the wiper's job easier. Silicone WeatherTechs are more durable than typical rubber units, too, so they hold a sharp edge longer.
| | |
| --- | --- |
| The THRS needed better headlights–not cute, blue bulbs, either. We wanted lighting which works, so we installed Harrison-Toshiba, Halogen Infrared Reflective (HIR) bulbs (PNs 9011, 9012) from Daniel Stern Lighting, a performance lighting components distributor. Not "over-wattage", blue-tinted stockers, Harrison-Toshiba bulbs' critical dimensions are the same as O.E., so they fit right into the stock Camaro light assemblies. They use HIR technology which eliminates the short life, greater heat production and higher current draw of over-wattage bulbs. Their power consumption is the same as stock, yet the low beam produces 87% more light and the high-beam, 50% more light. Stern's HIRs enhanced our nighttime driving safety. | A Harrison-Toshiba Halogen Infrared Reflective (HIR) bulb (left), is reminiscent of an old-fashioned light "globe," but that's where similarity ends. An optically-transparent coating on the inside of that spherical section reflects infrared radiation back at the filament, making it hotter so it produces more light than it can by current flow, alone. Image: CHpg Staff |
An HIR bulb (right) must be modified by trimming the tab in the areas shown inside the arrows. The resulting tab is shorter and more narrow. Trimming is easy with a pair of wire cutters. Image: CHpg Staff

The Tool Man Cometh
| | |
| --- | --- |
| Buying the Mac Edge ratcheting wrenches was sort of a "well...duh" moment for us. Once we started using them, we couldn't understand how we lived without them. Image: CHpg Staff. | About the time we finished the headlight bulb installation, our Mac Tools truck stopped out in front–perfect on a day which was slow out in the shop and the day after pay day. We spent some more money with the Mac man and acquired additional tools to make our project less tedious. Ratcheting combination wrenches are the rage these days and we'd been slow to get hip to that sitch, but not any longer. From Mac Tools, we picked up two sets of them for SAE (PN SRW27K) and metric (PN SRWM212K) fasteners. These wrenches are in the "Mac Edge" line, all of which use some unique "socket" technology which makes using a combination wrench use easier. |
We bought Mac Tool's "Zero" ratchets in 3/8-drive (PN XR8PAZ) and 1/4-drive Flex Head (PN MR7PAZF). Several tool makers have ratchets with as little as 5° lash, however, the lower lash mechanism makes a weaker tool. The Zero uses a cam and roller-bearing assembly–like a sprag in an automatic trans–so it has no lash. This makes for easier use in tight spots, but also, a strong, durable tool.
| | |
| --- | --- |
| After using these Mac Tools "Zero" ratchets for a while we like the soft rubber handles more than the zero-lash feature. Image: CHpg Staff. | Since some of the screw drivers in the shop are kinda ratty and others have "disappeared," a new set was in order. We appreciate Mac's comfortable handles and, well...we have a thing for purple. Image: CHpg Staff. |
| | |
| --- | --- |
| The original thermal insulation on the engine's fuel hoses needed replacement and we wanted to insulate other fuel system parts near the engine, too. We cut the tattered O.E. stuff away and replaced it with Design Engineering's Heat Sheath (PN 010419), using longer lengths to insulate more of the hoses. We used DEI Cool Tape (PN 010413) to bond the Sheaths to the hoses. We cut a 7x10" square of DEI Floor and Tunnel Shield (PN 050503) to cover the ends of the hard fuel lines adjacent to the left exhaust manifold. All this was to keep the fuel cooler. More Cool Tape repaired insulation on crankshaft and camshaft position sensor wiring where it passes through a very hot area adjacent to the EGR valve. Lastly, in preparation for our header installation, we added DEI Protect-a-Boots to our MSD plug wires. | The stock fuel lines are wrapped in insulating sheath over a length of them routed above the left exhaust manifold. The original sheath was pretty ratty so we replaced it. Image: CHpg Staff. |
| | |
| --- | --- |
| Design Engineering's Heat Sheath is generally the same as what GM wrapped on fuel hoses at the factory. We added additional heat reflective material to shield the fuel lines which run along the left subframe rail adjacent to the left exhaust manifold. Image: CHpg Staff | To date, since the THRS is also a daily driver, we racked-up a lot of miles doing this project, so it was time for an oil change. We drained the oil, changed filters–we use the LT1 V8's larger, PF52–then poured-in five quarts of Red Line 10W30 synthetic engine oil. Since our V6 has no oil cooler, we're running it to higher rpm and we're making more power, 225° F oil temperature is not unusual and we see 250° on hot days at high speed. Red Line gives us a needed durability enhancement at those high temperature levels. |
On our final day of waiting for the fuel pump, we installed what we feel is the best shift light for pod installations: Auto Meter's Digital Pro Shift System (PN 3389). The "DPSS" has a shift light, in seven colors which can be selected by the user; five programmable shift points and a digital RPM display. All the programming is done by pushing the three, small buttons on the gage's face. Simple programming instructions are in the DPSS's manual. We put the DPSS and a Sport-Comp II electric oil temperature gauge (PN 3656), into an Auto Meter pod (PN 10210) mounted on the THRS's left A-pillar.

RPM data for the DPSS came from the ignition module's low-resolution, engine speed output, circuit #430, a purple/white wire going to pin #8 of the ECM's blue connector. This is a critical circuit. If there's a problem with it; the engine will not run, so the splice needs to be soldered and properly sealed.

The Auto Meter DPSS's tach display is easy to read. Its LED shift light is visible in bright daylight and brilliantly intense at night. In fact, after dark, most people will use the DPSS's dimming feature. A full-sweep, electric oil temperature gauge and one of Auto Meter's gauge pods for 4 Gen Camaro A-pillars rounded-out our aftermarket instrumentation. Image: CHpg Staff.
| | |
| --- | --- |
| We removed the oil filter adapter, chucked it in a drill press, drilled and tapped a hole for 1/8th-pipe thread and installed the oil temperature sender. Afterwards, thorough cleaning is required. We installed the adapter with a new oil filter adapter gasket and an ACDelco PF-52 filter both from our Chevy parts source, Tom Henry Racing. Image: CHpg Staff. | We passed on oil pan mounting for the oil temperature sensor because it required pan removal and welding. It was easier to remove the oil filter mount, drill into its output side and install the sensor there. Plus, that gave us a chance to use a Standard Abrasives Porting Kit (PN 260001) to deburr and polish inside of the passage which runs from the filter to the block's main oil feed. |
We're Pumped
| | |
| --- | --- |
| Our next THRS work session occurred right after FeEx Ground kicked our Racetronix shipment off the back of their truck. Since we're eventually going to add nitrous to the Tom Henry RS, we needed a pump upgrade, anyway. The Racetronix High-Performance Fuel System (PN W1-FPK-2) for '99-up V6 Camaros fits the bill. It consists of a high-volume pump assembly, the core of which is a Walbro 255 gerotor pump, and an auxiliary wiring harness. The Racetronix's up-to-67 gal/hr. flow meets a nitrous-injected engine's greater fuel requirement with ease. | The pump part of the Racetronix High-Performance Fuel System. For a sequence of photos illustrating how to replace the stock fuel pump with the Racetronix, click here. CHpg Staff. |
The Racetronix supports GM's "venturi feed" (prevents starvation at low fuel levels), uses the production, plastic fuel feed tube rather than a less-durable rubber replacement and stock electrical connectors.
These pumps cause voltage drop and increased heat in stock wiring due to higher current draw. The solution is Racetronix's wiring harness which includes 10-ga. wire, a relay and stock-type connectors. It brings power directly from the car's alternator back to the fuel pump and uses the existing fuel pump power supply to run the relay. The harness is assembled with soldered connections, is inside O.E. split-loom and is accompanied by excellent instructions. We wish all products like this were as well-executed as the Racetronix Fuel System.
During the installation of the Racetronix hardware, we disconnected the battery and while we were there, decided to test it with our shop's Auto Meter BT350 Battery and Electrical System Tester. It's a computerized, hand-held, diagnostic device which performs battery voltage and load, starter draw, automated voltage drop and alternator tests. This is a professional-grade device which test batteries with CCA ratings of from 200-1600. It has digital display and a memory which records the most recent 50 tests.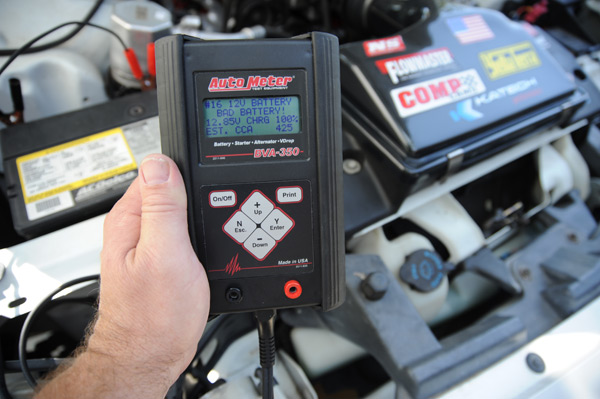 The Auto Meter battery tester tells all. It determined that what was originally a 690 CCA battery now capable of only 400 CCA. Time for a new battery. Image: CHpg Staff.
Admittedly, the Auto Meter is sort of expensive, but if you have a fleet of cars like we do here at the Camaro Homepage, being able to accurately test batteries and charging systems avoids unnecessary purchases of batteries, alternators or other charging system parts. According to the BVA-350's display–just our luck–the project car's original Delco battery tested as "weak". We yanked out that old battery and dropped it off at Kragen Auto Parts for recycling.
The best choice in batteries for a performance car is the Odyssey, made by EnerSys Energy Products in Missouri. Popular among racers with high compression engines, car audio enthusiasts, diesel pick-up owners, off-roaders whose trucks have winches and those who will pay extra for a battery with long service life, the Odyssey has earned a solid reputation in the niche market that is premium car batteries. Admittedly, an Odyssey battery is not cheap, but they are a high-value product because of their durability has them capable of outlasting just about everything else on the market of comparable size and cold cranking amp (CCA) rating.
An EnerSys Odyssey 75/86 battery. It accepts either side or top connections. Image: EnerSys Energy Products, Inc.

Some batteries provide enormous cranking power–others, deep cycle reserve power. EnerSys designs its products to do both. How so? One reason are flat plates made of pure lead rather than lead alloy. Pure lead plates can be made thinner, so more of them fit into the battery. Lots of plates mean more surface area and that means more power, up to two times that of some conventional batteries.

Odysseys are capable of providing five-second cranking pulses far in excess of their CCA ratings and that's often, two-to-three times the pulse rating of equally-sized conventional batteries, even at low temperatures. Odyssey's can handle deep cycles, too--as many as 400 charge-discharge cycles to 80% discharge.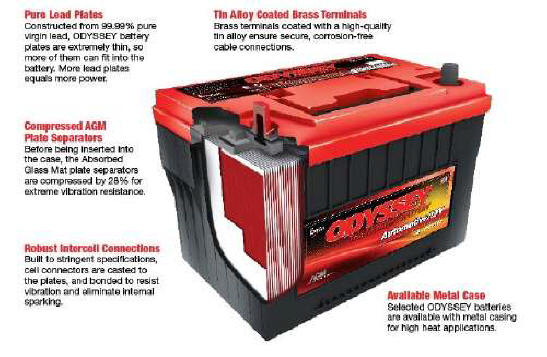 The 75/86 has a CCA rating of 730-amp, a 5-sec. pulse hot cranking amp rating of 1230 and a hot cranking amp rating of 815. It's reserve capacity is 100 minutes. Image: Image: EnerSys Energy Products, Inc
Rugged construction, Absorbed Glass Mat (AGM) design, vibration-resistant welded, intercell connections and tough, corrosion-resistant, tin-plated brass terminals combine to give the Odyssey Battery reliability and durability such that they have a 3-10 year service life. Further, the AGM design prevents spills, even when installed on its side. Unlike conventional batteries, Odysseys can be stored for up to two years and still be returned to full power.
| | |
| --- | --- |
| The particular Odyssey (PN PC1230DT) we put in the Tom Henry RS is a dual terminal unit which EnerSys calls a "Group 75/86 battery". It has top terminals (typical of a 75) and the side terminals (typical of an 86) used in GM cars from the late-'60s to the mid-'00s. It's rated at 730 cold (30-sec. at 0°F) cranking amps and 1230 "starting pulse" amps (5-sec. at 68°F). This unit weighs 45.5 lbs, 10.2 lbs more than the O.E. Delco we took out. There are no free lunches. The Odyssey's extra plates cost some mass, but...we'll "loose it back" when we exchange the car's stock, cast iron manifolds for headers. | The Odyssey quickly installs in a Camaro. The integral handle makes getting it in and out a snap. Image: CHpg Staff. |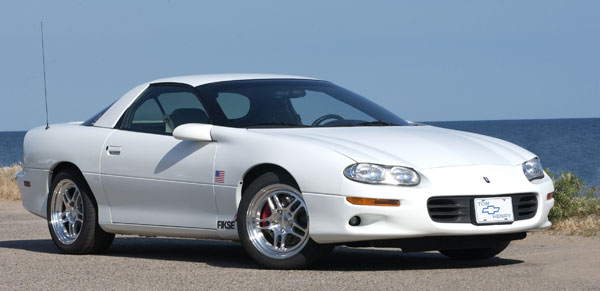 With a new fuel pump and a new battery, it was time to take a break and drive to Goleta, a seaside town in central California for a weekend away from working cars. The THRS looks pretty snazzy with its Fikse wheels. CHpg Staff.
| | |
| --- | --- |
| The SLP grille looks much better than the stocker, weighs about the same and is a bolt-on. Image: CHpg Staff. | Looking at our Fikse Profil 5S wheels, we decided the car's front view needed more visual accent, so we ordered SLP Performance Part's Replacement Grille (PN 50388). It's injection-molded, has a gloss black finish and carries a red Chevy Bowtie. It looks a heck of a lot better than the stock piece. |
Next, we looked for some twisties for action photos and to try out our new wheels and tires. Compared to the 245/50ZR16s they replaced, our 265/40ZR17 F1 Supercars put more rubber on the road and have slightly less tread depth, so we quickly confirmed an improvement in lateral grip and steering response. In addition, the 17x9.5" Fikse Profils were conspicuous in what they didn't do: degrade handing with additional unsprung weight, in spite being 1.5" wider and an inch bigger in diameter.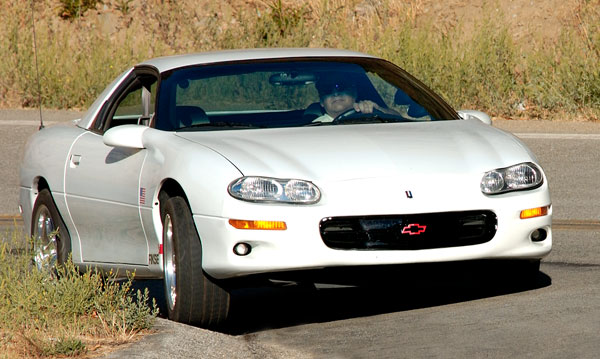 Finally–a chance to run The Tom Henry RS hard on some curvy roads. Clearly, our numerous handling enhancements made a significant improvement. Image: Gary Peterson.
With brake dust on the wheels and dead bugs on the nose, the Tom Henry RS needed washing. Fikse USA says to wash their wheels with 1:1, Simple Green and water. Then, we did the whole car with another Simple Green product, "Car Wash". To keep the Fikse's TechniPolished aluminum rims gleaming, we treated them with Adam's Metal Polish #1 and #2.
The Heads-Up on Headers
While the Extrude Honed, stock exhaust manifolds installed in Part Three improved flow on a per-manifold basis, even after we had Extrude Hone AFM process them, they had flow differences between each primary pipe. In addition, the right manifold's #1 and #3 primaries intersect at 90°. At minimum that would cause turbulence at the junctions and turbulence causes restriction. While Extrude Honed stock manifolds are good if you're on a tight budget, because we wanted to get the exhaust flow more consistent on a cylinder-to-cylinder basis and nitrous oxide injection increases exhaust flow; it was time to put headers on because of their overall reduction in restriction and more consistent cylinder-to-cylinder flow numbers.
Inside the right exhaust manifold in the area circled is where we believe there is exhaust flow turbulence and restriction. Image: CHpg Staff.

First, we researched off-shelf headers for the V6 4th Gen F-car. RK Sport lists a header for the 3800 but at the time we were preparing this story, RK Sport told us that sales of that part had not been real good and that once stock ran out, it probably discontinue the product. Faced with testing and covering a product which, going forward, might not be available to readers; we moved on. Pacesetter also markets a shorty header for 3800s in Camaros, however, one part number covers all '95s to '02s and we read enough anecdotal accounts on the Internet of 98-02 V6 owners having difficulty with the EGR connection on the left header that we decided that product wasn't for us, either.

Clear Image Automotive makes a shorty header for F-car 3800s that comes highly-recommended by anecdotal accounts on the Internet, however, in the pictures we saw on its web site, the left header has the same problem as do the Pacesetters–they won't bolt up to the 98-02 EGR. An email inquiry to Clear Image for more information went unanswered.
There are some other choices out there, such as the equal-length, 3-into-1 race headers from Force Fed Fabrications, however, they require user fabrication of the connection to the rest of the exhaust and, since this was not an all-out race car and we needed a stock cat converter, Force Feds, as good as they are, wouldn't work.
| | |
| --- | --- |
| Confronted with one header which will be discontinued and three others which would require us to supply some level of fabrication and/or modification to get them to fit the car, we decided to accept an offer from Dawson Racing Headers to prototype a set of bolt-on, shorty headers for 3800 Series IIs in '98-'02 Camaros using our project car. | Next to go on the Tom Henry RS was a set of custom-built exhaust headers from Dawson Racing Headers. Image: CHpg Staff. For a photo story about how headers are made, Click Here |
Dawson Headers, in Nuevo, California, was owned by former Hooker Headers engineer, Tom Dawson. The company had 20 years of experience and did premium headers for everything from Top Fuel cars to tractor-pullers, including Camaros–all of 'em, from '67 to '02 and '10-up, street or race, and with just about any engine.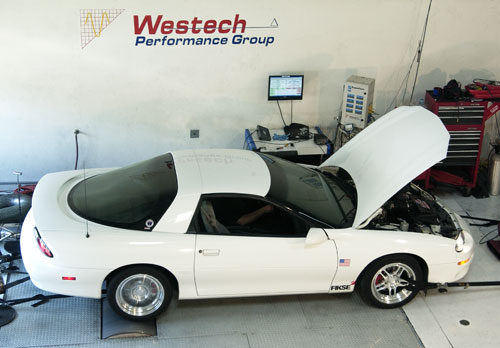 With Dawson Headers and 1.8 rockers installed, it was once again, onto the Superflow chassis dyno at Westech Performance Group to validate the work done to date.
Our Dawsons are a shorty design. Their oxygen sensor bungs are in stock locations. The headers are designed with easy access to header bolts and the Denso IT-20 spark plugs we like to use. The connection on the left header's #1 primary pipe is configured to bolt-up to the '98'-02 EGR plumbing.
The mounting flanges are 3/8-inch, laser-cut, mild steel. The primary pipes 1 5/8-in. diameter, 16-ga. (.065" wall), 1010 mild steel tube stock. All curved sections are are mandrel bent. Most joints are tungsten inert gas (TIG) welded, however, typical of high-end race headers, the outside of each pipe-to-flange joint is TIG, silicon-bronze brazed. The collectors are 2.5-in diameter 16-ga. mild steel. The Dawson Racing Headers' system for a 3800 Camaro includes a 2.5"-into-3" y-pipe with a bolt-up connection which must be welded on the stock catalytic converter.
Sadly, on Jan. 24, 2009, a couple of years after he did the headers on the Tom Henry RS, Tom Dawson died of complications due to diabetes and kidney problems. Tom was astonishingly good when it came to designing and building headers. He could look at an engine, take a piece of tubing cut and bend it and it would fit perfectly. Tom will be missed. He was a big guy with a big heart and one hell of an artist with a tubing bender and a welder.
Once the headers were complete, we sent them to Extreme Performance Coatings to be treated with the company's ceramic-chrome exterior coating and its "MCS" interior insulating coating. Extreme Performance uses coating materials from one most innovative and well-established suppliers in the industry, Techline Coatings.
First, the headers are aluminum-oxide grit-blasted then washed. The outside treatment is fairly basic: a ceramic-metallic coating is applied with conventional equipment. What's unique is the proprietary process Extreme uses to coat the interior of a set of headers with a thermal insulating compound. After the outside and the inside are done, the parts are baked to cure the coatings.
The idea behind the coating is to keep the exhaust heat in the headers such that cat light-off doesn't become a problem and the amount of heat radiated to the vehicle interior decreases. Extreme's MCS inside pipe insulating coating is the first barrier and the ceramic-chrome exterior coating is the second.
We installed the Extreme-coated, Dawson Headers using Fel-Pro gaskets, new Denso oxygen sensors (PN 234-4018) and Stage 8 Locking Fasteners.
Finally, the THRS Team met at Westech Performance Group for another chassis dyno session. First, Z-Industries,' Drew Zimmer, updated our computer programming, then we tested the Whisper Motorsports air box lid we installed in Part 3, using a stock air box fitted with a Green Filter as a baseline. Then, we switched to the Whisper Motorsports carbon fiber air box lid with the Green Filter and gained an additional 2-hp at peak power and 5-lb/ft at peak torque.
| | |
| --- | --- |
| With the Whisper Lid in place, at the rear wheels, the Tom Henry RS peaked at 219.1 SAE horsepower at 5700 rpm and 214.0 pound/feet torque at 4600 rpm. Figuring 18% driveline loss that's 267-hp SAE at the flywheel, 17-hp more than our original goal of 250 and 70-hp more than stock. Not only is that an improvement–13-hp–over the last test in Pt. 3 (to see that data, click here), but that peak moved higher and the power curve extended to about 200-hp@6100 rpm whereas before, it dropped-off past 5500. From a drivability standpoint, for a V6, the Tom Henry RS is a stump puller on the street with a fat torque curve which is above 190 lbs/ft from 1900-6200 rpm. No doubt–Dawson Racing Headers along with all our other mods work very well! | This is the Whisper Lid as installed on the THRS. This replaced an SLP lid designed for a V8 which leaked around the filter and required some complex ducting to the engine. Image: CHpg Staff. |
While the car did make almost 220-hp, we noticed a little dip in the numbers right before peak power. We were running the car on pump gas and attributed the dip to some detonation and ensuing knock retard. In the last part of the series we had trouble with KR but this time, it was coming at a different point in the power curve. We added three gallons of Rockett Brand 100 octane Racing Gasoline, then ran again, and the "KR" was gone. We made 220-hp.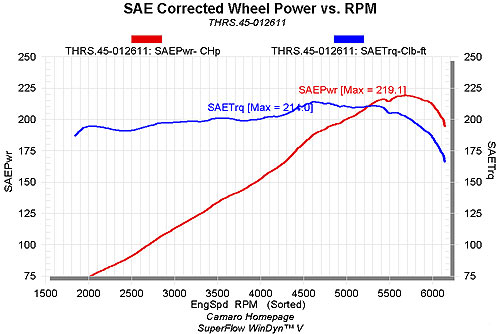 The latest dyno data has us pretty happy, actually–were ecstatic! Power is up. We up 15-hp from last time with most of that coming at high rpm. Torque has improved, not only the peak, but the whole torque curve as flattened considerably since our last test. The rpm range of the engine has extended somewhat, too.
In Part 5, we have a few more small intake and exhaust tweaks up our sleeves. We'll, also tell you a little more about details of the THRS's engine controls calibration. We'll do some more suspension work and we'll overhaul the brakes.
Sources:
Daniel Stern Lighting, Inc.
2101-35 High Park Ave.
Toronto, ON, M6P 2R6
866-861-8668
www.danielsternlighting.com

Rockauto
www,rockauto.com

Denso Sales of California, Inc.
3900 Via Oro Av.
Long Beach CA 90810
310.513.8582
www.densoaftermarket.com
Design Engineering, inc.
604 Moore Rd.
Avon Lake OH 44012-2315
800-264-9472
www.designengineering.com

Eastwood Company


263 Shoemaker Road


Pottstown PA 19464




www.eastwoodco.com

EnerSys Energy Products, Inc. (Odyssey Battery)
617 North Ridgeview Dr.
660.429.2165
www.odysseyfactory.com
Extreme Performance Heat Coatings
515 N. Elevar St.
Oxnard CA 93010
805.485 2667
www.xtremeperformanceheatcoatings.com
Fikse USA, Inc
6851 S 220th St
Kent, WA 98032
253.872.3888
Global West Suspension Systems
655 S. Lincoln Av.
San Bernardino CA 92408
877.470.2975


www.globalwestsuspensionc.om

Goodyear Tire and Rubber Co.
see your local Goodyear dealer


www.goodyeartires.com

Helm, Inc. (GM Service Manuals)
14310 Hamilton Ave.
Highland Park, MI 48203
800 782 4356


www.helminc.com

Katech, Inc.
24324 Sorrentino Ct.
Clinton Twp MI 48035
586.791.4120
www.katechengines.com

Mac Tools
Suite 200
505 North Cleveland Avenue
Westerville OH 43082
800.mac.tool
www.mactools.com
Quality Auto Service
3460 Falcon St.
Pomona CA 91767
909.596.5502
Racetronix
locate dealers at:
www.racetronix.com

Red Line Synthetic Oil Corporation
6100 Egret Court
Benicia CA 94510
800.624.7958
www.redlineoil.com

Rockett Brand Racing Fuel
3703 W. Lake Avenue, Suite 75
Glenview IL 60026
800.345.0076
www.rockettbrand.com

Standard Abrasives Motorsports Division
4201 Guardian St.
Simi Valley CA 93063
800.423.5444
www.sa-motorsports.com
Tom Henry Racing
Box 68
Bakerstown PA 15007
877.842.4389
www.tomhenryracing.com
Tucker Tire Service Co.
612 N Azusa
Covina CA 91722
626.331.0663
www.tuckertirecompany.com
Vericom Computers
Suite 200
14320 James Road
Rogers MN 55374
800.533.5547


www.vericomcomputers.com

WeatherTech Automotive Accessories
5230 Walnut Ave.
Downers Grove IL 60515
800.441.6287


www.weathertech.com

Westech Performance Group
Unit C
11098 Venture Av.
Mira Loma CA 91752
951.685.4767
www.westechperformance.com

Whisper Motorsports
Suite 305
4400 118th Av. North
Clearwater FL 33762
727.573.1292
www.whispermotorsports.com
Yella Terra USA
1935 Tommy Webb Dr.
Meridian MS 39307
601 485-3355
www.yellaterra.com.au
Z-Industries
31200 Santiago Rd.
Temecula CA 92592
951.303.6857


www.z-industries.com